A Fanderson Convention
20th to 22nd September 2019, Holiday Inn, Maidenhead
Fanderson presents a full weekend event celebrating 50 years of UFO, Doppelgänger, The Secret Service and the productions of Gerry and Sylvia Anderson.
• Guest appearances • Rare screenings • Model, puppet, costume & artwork displays •
• Games • Exclusive merchandise • Workshops • Evening entertainment • And much more…
REGISTRATIONS FOR SUPERCELEBRATION CLOSED ON 1st SEPTEMBER
(supporting packages are still available, though)
Autumn 1969: principal photography was underway on UFO at MGM Borehamwood Studios, Universal Pictures was readying Doppelgänger for its theatrical release and on 21st September the last Supermarionation series – The Secret Service – would receive its broadcast premiere on ATV in the Midlands.
Fifty years on, and fans of Gerry and Sylvia Anderson's iconic creations will be celebrating this and more – including their other amazing visions of the future Stingray, Thunderbirds, Captain Scarlet And The Mysterons, Space:1999 – at Supercelebration, Fanderson's convention for 2019. For convention details and the latest updates, keep an eye on www.fanderson.org.uk.
THE PROGRAMME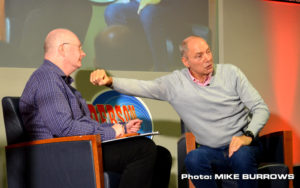 Join us at Supercelebration – Fanderson's weekend of events celebrating 50 years of UFO, Doppelgänger, The Secret Service and more. Catch up with old friends and make new ones; hear from the people who made our favourite programmes; add to your autograph collection; marvel at original and studio-standard replica models, puppets and costumes; get into the nitty-gritty in our interactive workshops; browse our gallery of stunning artwork; catch an episode or two, or rare screenings. And be ready to transport all the goodies you'll be taking home from Fanderson Sales and our traders.
The weekend will include a sparkling celebratory reception, but you'll need a clear head to take in all there is to see and do in a packed convention. Find time to recharge your batteries for our Saturday night Supercelebration disco.
The detailed schedule won't be confirmed until the weekend itself, but the outline is:
Friday 20th September 2019 – 15:00 Registrations and Fanderson Sales opens, 19:30 sparkling reception, 19:30-22:00 evening entertainment
Saturday 21st September 2019 – 08:00 Registrations and Fanderson Sales opens, 09:30 opening ceremony, 18:00 temporary closure to get yourself something to eat and get changed, 20:00-00:00 Supercelebration disco
Sunday 22nd September 2019 – 08:30 Registrations and Fanderson Sales re-opens, 09:45 re-opening ceremony, 17:30 closing ceremony and prize giving
The Supercelebration disco will be full of the very best music, and the best Anderson characters as we're hoping everyone will get into the spirit with an Anderson-themed fancy dress outfit. All we ask is that your costume isn't an off-the shelf number, and that you've not worn it at a Fanderson event before. We'll have prizes for the best costumes.
THE GUESTS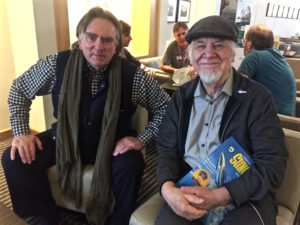 Fanderson is proud to say that we've never paid our guests an appearance fee. They come to our events because they want to be with fans and share their experiences and stories.
We've invited a long list of guests from Gerry and Sylvia Anderson's productions to join you at Supercelebration. The following have confirmed they're going to be with us over the weekend (subject to personal and professional commitments, of course):
Terry Adlam
Dee Anderson
Steve Begg
Graham Bleathman
Peter Hitchcock
Laraine Humphrys
Susan Jameson
Michael Jayston
Brian Johnson
Steve Kyte
Dominic Lavery
John Lee
Kaye Main
Georgina Moon
Liz Morgan
Judy Preece
Gary Raymond
Christian Roberts
Andrew Skilleter
Penny Spencer
Peter Tilbe
Gary Tomkins
Mike Trim
Mary Turner
Paul Weston
Mark Woollard
Darryl Worby
Matt Zimmerman
Guests may charge for autographs at the event, at prices they set.
THE CHARITY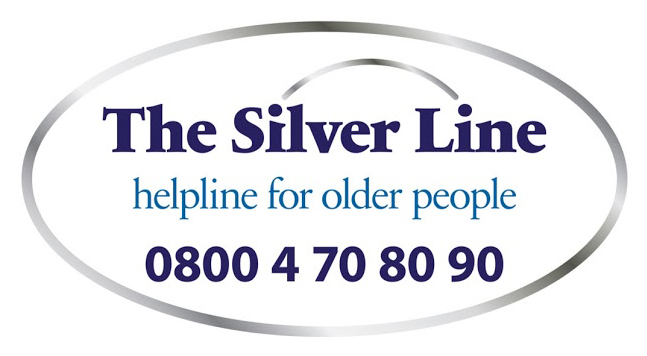 Fanderson has a great track record of raising funds for charities including The Alzheimer's Society, BBC Children In Need, Breast Cancer Care, Cinema and Television Benevolent Fund. Macmillan Cancer Support, Terrence Higgins Trust, Guide Dogs For The Blind and Diabetes UK.
Everyone who booked a place (or supporting package) at Supercelebration before 1st June 2019 was asked to let us know the organisation(s) that they would like us to consider as the convention charity. All nominated charities were discussed and considered at the club committee meeting in July, and we're delighted to announce that we'll be raising much-needed funds for The Silver Line.
AUCTION/RAFFLE
We'll have lots of goodies in our live auctions, silent auctions and raffles during the weekend. No matter your budget, everyone will have the chance to leave Supercelebration with something very special, and raise important funds for our convention charity.
THE VENUE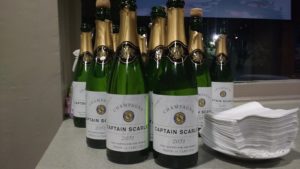 The popular Holiday Inn, Maidenhead is once again our venue for Supercelebration, following excellent feedback from our The Future Is Fantastic! event in 2015 and Special Assignment in 2017. It's set in a residential area one mile from Maidenhead town centre and has a complimentary car park for residents. The health club includes a large swimming pool, children's pool, whirlpool, sauna, steam room and two gyms. The restaurant serves seasonal dishes as well as classics like steak and pasta, and there's 24-hour room service. There is also a very large open plan cocktail bar that serves bar snack meals and is great for socialising.
The hotel is a short drive from AP Films, Century 21 and Pinewood Studios and a vast array of filming locations nearby:
3.6 miles/12 minutes to Islet Park
6 miles/12 minutes to Bath Road (AP Films)
6.6 miles/13 minutes to Stirling Road (Century 21)
12.1 miles/23 minutes to Pinewood Studios
The hotel has good transport connections to Heathrow, London, the West, the Midlands and the motorway network:
1 mile (3 minutes) to M4
9 miles (13 minutes) to M40
12 miles (14 minutes) to M25
taxi from London Heathrow: 25 minutes/£35 one-way approximately
taxi from London Gatwick: 1 hour/£60 one-way approximately
train from London Paddington to Maidenhead: 37-47 minutes/from £11.10 one-way
taxi from Maidenhead railway station: four minutes/£4 one-way approximately
Rooms at the Holiday Inn are available to delegates at the special rate of £100 per standard double room/per night (bed and breakfast) whether for single or double occupancy. Just call 01628 506070 in normal office hours (9:00-17:00 Monday to Friday) and quote the reference 'Fanderson'.
Alternative hotels in the area:
PRICES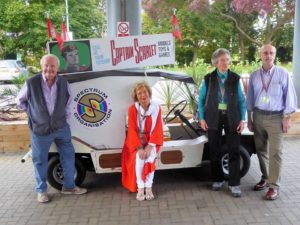 As a fan-organised event, the earlier everyone books for Supercelebration, the earlier we know how extravagant we can be in staging the show.
Places start at just £75 per person for one day, or £130 for the whole weekend. We're able to keep the prices as low as possible because we're a fan club and no-one is taking a salary. Every penny you pay for your place goes into staging the event.
Registrations will close on 1st September 2019, and we cannot guarantee that there will be any on-the-door places available.
Special needs: The more notice we have, the more likely we can accommodate any special needs that will make your experience more enjoyable, so please let us know as soon as possible.
Carers: registered carers accompanying delegates will, of course, be admitted free of charge to Supercelebration. We just need their name in advance and they should present their local authority carer registration card or HMRC or GP registration letter upon arrival. Please note, however, that if the carer may be required to buy anything from Fanderson during the convention, even on behalf of the person for whom they are caring, they will need to purchase a Supporting place.
Book your place(s) online now or, if you'd prefer to pay by UK cheque or postal order, print and complete the registration form and return it to us with your payment.
FANDERSON MEMBERS
Saturday only £75
Sunday only £75
Full weekend £130
NON-FANDERSON MEMBERS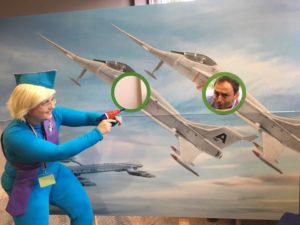 If you're not already a Fanderson member (even if you're coming along with a Fanderson member) you must apply for a trial member's place at Supercelebration, which includes a sample membership at a special price of £10. This will start when you arrive at the convention and run until 31st December 2019. It will include the latest issue of the club's FAB magazine, membership badge, enable you to buy our merchandise at the convention at special prices, access our full range of merchandise online and access to the members' area of the Fanderson Forum.
Saturday only £85
Sunday only £85
Full weekend £140
NOTE: as our licensing agreements requires us to only trade with members, you must purchase a membership at the same time as buying a place at Supercelebration. You'll see the Current Membership option at £0 under the 'membership' category.
TRADERS/LICENSEES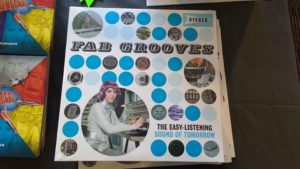 If you're a trader or licensee who'd like the opportunity to sell your merchandise to fans of Gerry and Sylvia Anderson's work (or even a club member who wants some of your collection to go to a good home) you can buy tables in our Supercelebration Traders' Room. Each table is approximately 1m x 2m and permits one person to attend that table (so, for two people at your table, you'll need to buy two tables etc). A Trader's table doesn't give you access to the main convention areas.
Saturday only £75
Sunday only £75
Full weekend £130
NOT ABLE TO BE WITH US IN PERSON?
If you're not able to join us at Supercelebration but would still like to support the event, you can buy a Supporting place. You'll be supporting our convention charity and we'll send you a full convention pack straight after the event.
UK £10
Europe £12.50
TERMS AND CONDITIONS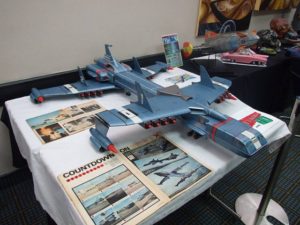 Supercelebration is being staged by Fanderson. The world's only official Gerry and Sylvia Anderson appreciation society, Fanderson is endorsed by ITV Studios Global Entertainment, Anderson Entertainment, Gerry Anderson Productions, ITC Entertainment Group and the family of Sylvia Anderson. Based in the UK, with over 1,300 members worldwide and run by a small unpaid committee of fans, Fanderson was formed in 1981 from several small clubs at the request of ITC Entertainment and Gerry Anderson, so that they could support a single independent fan body for all Anderson productions.
As a club, we can only sell merchandise to club members, which enables us to keep costs down and direct all our funds into our products and services. No-one running Fanderson takes a salary, 'mutual trading' with our members means we're exempt from certain taxes that would inflate our prices, and copyright holders are often willing to forego the expensive merchandise licences that commercial companies have to buy. And, because we're fellow fans like you, we aim to get the little details right. Join us at www.fanderson.org.uk
This information was correct at the time of going to press, but does not constitute a contract to supply any of the attractions mentioned, nor a definitive timetable. Convention images are from previous Fanderson events and do not necessarily represent everything you'll be enjoying at Fanderson's Supercelebration.
By booking any places at Supercelebration, you are agreeing to the below, in addition to Fanderson's standard terms and conditions.
All payments are non-refundable.
You'll automatically receive confirmation of your order if you book online at www.fanderson.org.uk, or by e-mail if you use this form and include your e-mail address. If you'd prefer us to send a hard-copy acknowledgement of your order, please enclose a stamped self-addressed envelope with your completed form.
It is your responsibility to book and pay for your own accommodation and any associated costs, or to pay any cancellation costs due to your failure to attend the event.
The convention committee and/or the hotel reserve the right to decline registration for any reason whatsoever and, should your application for registration be declined, any registration fees that you have paid will be refunded in full.
The convention is not suitable for children under 5 years of age
Any children in your party are your sole responsibility for the duration of the convention, and that the organisers will not make any special arrangements for children of any age.
The organisers will make every effort to provide you with the contents of the programme of events as described, but changes to the programme may be implemented at the organisers' discretion due to unforeseen circumstances that may arise nearer the date of the event.
The organisers cannot control the taking of personal photographs and/or video footage which includes delegates at Supercelebration, and by booking a place at Supercelebration delegates consent to such photographs and/or footage being used to promote Fanderson and/or its products and services.