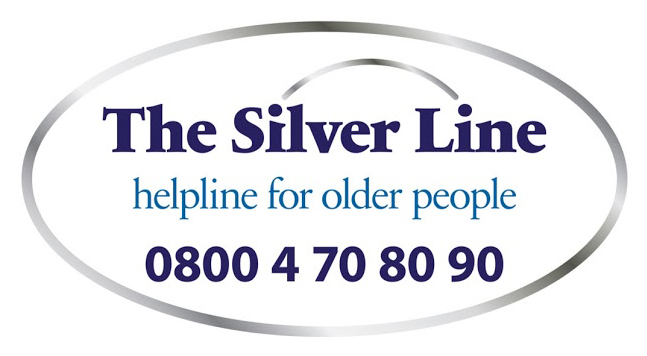 Having considered all organisations nominated by delegates coming to Supercelebration this September, the club committee is delighted to announce that The Silver Line will be our convention charity.
Loneliness amongst older people can lead to depression, leave people vulnerable to abuse and even affect the onset of dementia. The Silver Line operates the only confidential, free helpline for older people across the UK that's open 24 hours a day, seven days a week.
The Silver Line Helpline provides three functions to support older people:
a sign-posting service to link them into the many, varied services that exist around the country
a befriending service to combat loneliness
a means of empowering those who may be suffering abuse and neglect, if appropriate to transfer them to specialist services to protect them from harm
Since their launch in November 2013, The Silver Line Helpline has received over 2.5 million calls. Over two-thirds of these calls were made overnight or at weekends when no other helpline is available for older people who may be lonely, isolated or confused. They now receive around 10,500 calls every week from lonely and isolated older people; with 53% of callers saying they have literally no-one else to speak to.
Over 3,000 volunteer Silver Line Friends are making regular weekly friendship calls to older people. They have launched Silver Circles, group calls for people with shared interests.
The Silver Line relies entirely on voluntary donations to cover the cost of calls to the helpline, friendship services, and all other costs. We'll be raising much-needed funds through blind and live auctions, raffles and other activities during the weekend.
Watch this short message about the importance of The Silver Line from founder, Dame Esther Rantzen.
After I wrote a newspaper article describing my feelings, as a widow living alone for the first time at the age of 71, Ellen wrote to me (anonymously, because she said she did not want to burden her daughter) to describe her own feelings of loneliness:
"I can't get out on my own due to health problems, so it can be as much as 3 days I go without talking to anyone… I dread the winter nights when everything seems to close in around me and I feel so isolated. I am an optimist by nature and sometimes I need that to get through another pointless day where I feel as if I am a waste of space."
What kind of society have we created when an intelligent, articulate woman feels her life is pointless, and she is a waste of space?
The reality is that older people should be valued as a tremendous asset to society. Older people keep families functioning, (one third of all working mothers depend on grandparents for childcare), they form the bedrock of the charitable sector, in the workplace their skills and experience make an invaluable contribution. If, like Ellen, they become isolated and vulnerable, it is the nation's responsibility to make older people feel valued, to include them, empower them, and connect them back to their communities. And that is what we hope The Silver Line Helpline will achieve.
Loneliness can cause serious damage, physically and mentally, as dangerous as smoking fifteen cigarettes a day, more dangerous than obesity. When I had the idea that a helpline might prove a vital, liberating link for older people, based on my experience of creating ChildLine, (the helpline for children in distress or danger), I was thrilled by the way charities, statutory organizations and individuals working in the field of elderly care instantly offered their support and expertise. All were united in the knowledge that even given the wide range of excellent projects across the country, some vulnerable older people are so isolated they are extremely hard to reach. And there is a huge unmet demand for advice and friendship. A survey by the Campaign to End Loneliness found that 42% of older people reported that if they need help, they do not know where to turn.
In November 2012 we launched our Silver Line pilot with very limited publicity, with the slogan "No question too big, no problem too small, no need to be alone." We instantly discovered how crucial our pilot service was to the older people who rang. Some callers rang late at night to say "I just wanted someone to say Good Night to." Dorothy told us "It's so good to speak to someone who seems really interested in what I think." They told us that speaking to our team at any time, day or night, gave them security, and something to look forward to. Many said that the small hours of the night, and the long hours of Sundays were very bleak, if you are alone. Christmas, they said, was particularly painful. I spoke to one elderly gentleman on Christmas Day who told me, "To be one hundred per cent honest, Esther, you are the first person I've spoken to all day." When I rang him back a week later he told me I was the only person he had spoken to all through Christmas and the New Year.
One gentleman told us, "When I get off the phone, I feel like I belong to the human race." And a lady said that, thanks to the regular calls she receives from our Silver Line Friend, she no longer feels "shuffled under the carpet."
When Childline was launched, it uncovered the shocking prevalence of abuse and neglect among our children. The Silver Line Helpline has revealed a truth about our older people which just as shattering. The stigma attached to admitting loneliness, the reluctance in older people to ask for help because "there are so many other people far worse off than I am" and "I don't want to be a burden" has meant that we have ignored and neglected the deep unhappiness created by loneliness, which is afflicting so many elderly people.
We are extremely grateful to Dr Callan and the CSJ for their independent evaluation. Grateful thanks also to the Big Lottery Fund and other generous donors, who enabled us to launch our national service well in time for Christmas 2013. In July 2018 we took our 2 millionth call. We are receiving 10,500 calls a week and have trained over 4000 volunteer Silver Line Friends.  Let us hope it goes some way to prove to the older generation that they are valued, that we care about their well-being, and that The Silver Line gives them the information and friendship they need, and deserve.
Dame Esther Rantzen DBE