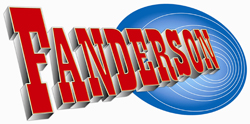 Thunderbirds. UFO. Space:1999. You're probably here because you know these iconic television programmes, but Gerry Anderson and Sylvia Anderson created many more television series and motion pictures – both together in a startling and unique double-act and in their individual careers.
Fanderson is the world's only official appreciation society for the work of Gerry Anderson and Sylvia Anderson. Here you can find news about their marvellous creations, join the club, buy merchandise that the club produces exclusively for its members, contact other fans around the world, and much more.
Fanderson – The Official Gerry And Sylvia Anderson Appreciation Society is a non-profit-making organisation created by Gerry Anderson, ITC Entertainment and fans. It is endorsed by ITV Studios, ITC Entertainment Group, the family of Sylvia Anderson, Anderson Entertainment and The Indestructible Production Company.
Note that as, in many cases, the films and television programmes the club is concerned with were made several decades ago, our products may contain images, attitudes, phrases and references that were commonplace at the time but may not be generally acceptable today.
Views and opinions expressed on our various social media platforms are those of the individual contributors.
For more information, please check our Frequently Asked Questions page and personal data and privacy notice.
Four Feather Falls © Granada, licensed by ITV Studios Global Entertainment: Supercar, Fireball XL5, Stingray, Thunderbirds, Captain Scarlet And The Mysterons, Joe 90, The Secret Service, UFO, The Protectors and Space:1999 © ITC, licensed by ITV Studios Global Entertainment: Doppelgänger © Universal Pictures: Terrahawks © Christopher Burr and Anderson Entertainment: Lavender Castle © Classic Media: Space Precinct © Space Productions and Anderson Entertainment: Dick Spanner, New Captain Scarlet © Anderson Entertainment: The Animates © Animates Film Productions. All rights of the programme/copyright owners reserved.