Gerry Anderson was the creator of Thunderbirds, Captain Scarlet, Space:1999 and many other cult television programmes. Gerald Alexander Anderson was born in 1929 in Hampstead, London. With initial ambitions to be an architect, he studied plastering at building school, but the experience was short-lived when it was discovered that he was allergic to plaster. Instead, he went to work in a photographic studio and became increasingly attracted to the idea of working in film. He applied for a job in the Colonial Film Unit, a branch of the Ministry of Information, and was taken on as a trainee. This gave Anderson an insight into every aspect of film production, although he found that he had a considerable talent as an editor and it was in this capacity that he was able to find work at Gainsborough Pictures.
Anderson made his film industry debut in 1946 as assistant editor for director Arthur Crabtree and producer Harold Huth on Caravan, a period romantic drama starring Stewart Granger and Jean Kent. He went on to work on Jassy and Snowbound before he was called up in 1947 for National Service in the RAF where he was set to work as a radio telephone operator.
He ended his service as a direction finder on an airfield, and resumed his film career in 1949 at Pinewood Studios with work as a dubbing editor on So Long At The Fair, The Clouded Yellow and Anthony Havelock-Allen's Never Take No For An Answer. More work followed on South Of Algiers, Appointment In London, They Who Dare, and A Prize Of Gold before Anderson elected to leave Pinewood, first to join Polytechnic Studios (where he made his directorial debut on a television series called You've Never Seen This) and then, when Polytechnic folded in 1955, to co-found a commercials company, Pentagon Films, with his Polytechnic colleagues Arthur Provis, Reg Hill and John Read. This venture led to the formation of A.P. Films, but little work came their way and Anderson was forced to take on freelance directorial assignments for television.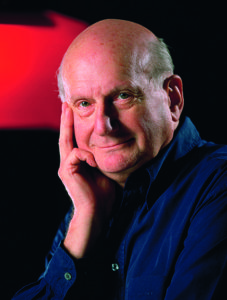 The Producer's First Steps: Twizzle to Supercar
After six months in business, the partners were approached by Associated Rediffusion executive Suzanne Warner and children's author Roberta Leigh to produce a puppet series, The Adventures Of Twizzle, for the newly-formed Independent TeleVision. Desperate for the work, Anderson and Provis jumped at the contract, resolving to make the best puppet shows they could and hoping to prove that they could make even better live-action features given the chance. Leigh commissioned a second series, Torchy The Battery Boy, before the partners decided to branch out and produce their own show, Four Feather Falls, with backing from Granada Television. This fantasy Western series proved very popular and Anderson forged ahead with plans for a new series, Supercar, but Granada refused to finance the show and APF was left on the verge of bankruptcy.
Willing to accept any project to keep the company going, Anderson readily accepted the opportunity to produce three television commercials for Blue Cars Travel in association with Four Feather Falls voice artist Nicholas Parsons. One of the commercials, "Martians", won the Grand Prix Award at the first British Television Commercials Awards in 1961. Anderson also approached Anglo Amalgamated who gave him £16,000 to produce and direct his first feature film, Crossroads To Crime, a live-action thriller, but the failure of this live action drama resigned Anderson to the fact that his company's immediate future lay with puppet series.
Fireball XL5, Stingray and Thunderbirds
At this point Lew Grade, head of ATV, stepped in to finance a full series of Supercar, which pioneered the sophisticated puppetry technique of Supermarionation. Supercar was sold to American television and Grade immediately commissioned a second season. Grade continued to finance subsequent APF series, each more elaborate and popular than the last – Fireball XL5, Stingray and Thunderbirds. In 1966, the incredible success of Thunderbirds led to a major feature film for United Artists, Thunderbirds Are Go, and a sequel the following year, Thunderbird 6.
The Formation of Century 21
With the exploitation of the Supermarionation series for merchandising, APF developed into The Century 21 Organisation which incorporated the Century 21 film studios and associated merchandising, publishing, record producing and toy manufacturing arms, enabling Anderson and his partners to ensure quality control over products related to their creations. Century 21 also acquired the merchandising rights for a number of other popular television series and characters, including The Man From U.N.C.L.E., Dr Kildare, The Green Hornet, Burke's Law, The Monkees, Topo Gigio, Tingha And Tucker and many of the ITC action adventure series such as The Saint, Man In A Suitcase, The Prisoner, The Champions, Department S and The Persuaders!
Live Action – Doppelgänger, UFO and The Secret Service
In the meantime, however, ITC had been unable to sell Thunderbirds in the US and plans for a second season of the series were dropped (after only six episodes had been completed) in favour of a completely new series, Captain Scarlet And The Mysterons, which introduced a new style of perfectly proportioned puppets. Joe 90 and The Secret Service followed, but Anderson largely entrusted these to his experienced Century 21 team while he concentrated on making a break from puppet films with Doppelgänger, a live-action feature film for Universal (AKA Journey To The Far Side Of The Sun), and UFO, his first live-action series for television.
Having finally proven his abilities with full-sized actors, Anderson was then appointed by Grade as producer of the contemporary thriller series The Protectors, a show that became immensely popular with teatime audiences and ran for two seasons. While working on The Protectors on location in Malta, Anderson produced The Investigator, a pilot for a series that would have mixed Supermarionation with live-action.
Space:1999
In 1973, an attempt to mount a second season of UFO was aborted when the series proved to be a ratings failure in the US, but Anderson persuaded Grade not to let the pre-production work on UFO2 go to waste, and instead allow him to transform the concept for a new series, Space:1999, which ultimately ran to two seasons. In the hiatus between the seasons, Anderson produced The Day After Tomorrow, a pilot for a proposed spin-off series which utilised many design concepts from Space:1999 and some of the series' actors.
When plans for a third season of Space:1999 were cancelled, Anderson temporarily abandoned series television in favour of a lucrative, award-winning advertising career. His marketing company then acquired the European merchandising rights to Swedish super-group Abba but he continued to work on proposals for a variety of television series (Rescue 4, Starcruiser 1 and Thunderhawks, among others) and films (Operation Shockwave) which never got much beyond the design stage.
Back to Puppets – Terrahawks
In 1979, Anderson entered into partnership with Sydney Rose to develop a live-action multi-million dollar feature film, 5 Star 5, but the project collapsed just weeks before the scheduled principle photography start date. In 1981, the formation of the Gerry Anderson Appreciation Society, Fanderson, demonstrated the continuing public support for Anderson's productions and directly led to the successful development of a new Anderson puppet series, Terrahawks.
In 1987, Anderson was commissioned by Channel Four youth programme Network 7 to produce Dick Spanner P.I., a series of 22 six-minute segments made entirely in stop-motion animation. He also began planning his next series, a science-fiction cop show titled Space Police, but it was to be another eight years before the project came to fruition as Space Precinct. In the interim, Anderson directed Dire Straits' Calling Elvis video, contributed to the Return To The Forbidden Planet stage show and embarked upon a successful lecture tour of the UK. He reached an advanced stage of production on a 13-part cel-animated series, GFI, in 1993, but the project was abandoned due to technical and financial difficulties with only one episode completed.
Animated Projects
Lavender Castle, a 26 episode stop-motion animation space fantasy created by Anderson in conjunction with fantasy artist Rodney Matthews, aired in 1999/2000 on ITV in the UK. Anderson then developed the anime series FireStorm in collaboration with the TransArt studio in Tokyo. Combining 2D cel animation and 3D CGI, the series format combined a number of the signature elements of Thunderbirds, Captain Scarlet and UFO and aired in Japan in 2003 and has yet to be dubbed for an English-speaking market.
New Captain Scarlet and Beyond
Anderson completed New Captain Scarlet, a 26-episode CGI-animated reworking of the original Supermarionation series, which aired in 2005 on ITV in the UK. At the end of 2008 Anderson moved out of his long-term base at Pinewood Studios to concentrate on developing new projects from his home office.
In 2011 Anderson was diagnosed with Alzheimer's Disease, and from that point on directed much of his energies into raising awareness of the condition. In 2012 he became an ambassador for the Alzheimer's Society's 'Memory Walk' events and you can learn more about his battle with Alzheimer's at https://youtu.be/o8xBsolblEw. Anderson died on 26th December 2012.
Anderson's official biography, Gerry Anderson: The Authorised Biography written by Simon Archer and Stan Nicholls, was published in hardback by Legend Books (a division of Random House) in 1996, and a paperback edition was published the following year. What Made Thunderbirds Go!, an updated and expanded edition of the biography written by Marcus Hearn and Simon Archer, was published by BBC Books in 2002.