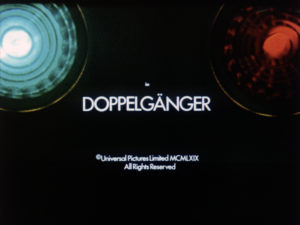 An unmanned Sun Probe has discovered a new planet in the solar system, in the same orbit as Earth but on the direct opposite side of the sun. The European Space Exploration Centre (EUROSEC) proposes a manned flight to the new planet in conjunction with NASA, but the American space agency only agrees to contribute the lion's share of the budget when it becomes clear that the Sun Probe information has been leaked to the East.
The launch date is advanced and project director John Kane is joined aboard the Phoenix capsule by American astronaut Glenn Ross for a three week flight to the far side of the sun. On arrival at the new planet, however, their Dove shuttle is hit by an electrical storm and crashes. The astronauts are rescued but Kane is critically injured and Ross is puzzled to find himself back on Earth, facing questions about why they aborted the mission and returned to Earth after only three weeks. Slowly, it dawns on Ross that he has not returned to his own planet at all, but a duplicate Earth that is a mirror image of his own…
Century 21 Cinema/Universal Pictures
Produced: 1968
UK premiere: 8th October 1969
101 mins
Screenplay by Gerry and Sylvia Anderson and Donald James
Directed by Robert Parrish
Premiere: 8th October 1969 (Odeon Cinema, London)
Producers: Gerry and Sylvia Anderson
Associate Producer: Ernest Holding
Director: Robert Parrish
Director of Photography: John Read
Art Director: Bob Bell
Visual Effects Director: Derek Meddings
Music Composed and Conducted by Barry Gray
Film Notes
On Location:
Albufeira, Portugal
Heatherden Hall, Pinewood Studios, Iver Heath, Buckinghamshire
Neptune House, BBC Elstree Studios, Eldon Avenue, Borehamwood
Notes:
An unusual and stylish science-fiction thriller, Doppelgänger made little commercial impact on its initial release. Better known nowadays by its American release title Journey To The Far Side Of The Sun, the film is recognised as one of the most imaginative and thought-provoking SF films of its time and has achieved cult status as the direct forerunner to Anderson's popular live-action series UFO, made the following year.
No fewer than eleven members of the Doppelgänger cast went on to appear in UFO, eight of them in recurring roles: Ed Bishop (Commander Ed Straker), George Sewell (Colonel Alec Freeman), Vladek Sheybal (Dr. Doug Jackson), Keith Alexander (Lt. Keith Ford), Jeremy Wilkin (Lt. Gordon Maxwell), Norma Ronald (Miss Ealand), Basil Moss (Dr. Frazer), Jon Kelley (Lt. John Masters), Philip Madoc (seen in A Question Of Priorities and Destruction), Anthony Chinn (seen in The Square Triangle and Sub-Smash) and Annette Kerr (seen in Identified). In addition, there are appearances from Supermarionation series voice artists Cy Grant (Lt. Green in Captain Scarlet) and Martin King (various voices in Captain Scarlet and Joe 90).
Italian actor Franco Derosa is seen briefly in Doppelgänger as public relations officer Paulo Landi in a role that, as filmed, was originally much larger – in a sub-plot, Landi has an affair with Sharon Ross – but virtually all of his scenes were removed from the final edit. Derosa was initially cast as Ed Bishop's co-star in UFO, playing Moonbase Commander Franco Desica. However, after three days of filming on UFO's pilot episode Identified, Derosa's ego and temperament had disrupted the schedule to such a degree that he was 'let go' and all of his scenes were re-shot – his lines in Identified were reassigned to Gabrielle Drake (as Lt. Gay Ellis) and his function in the series was later assumed by Michael Billington (as Colonel Paul Foster).
Many of the Doppelgänger's futuristic props were re-used for UFO and certain pieces of Barry Gray's atmospheric soundtrack music also found their way into the series, most notably the "Sleeping Astronauts" piece which accompanies Ross and Kane's flight (used for the spacewalk sequence in Close-Up) and the "Strange Planet" composition which became UFO's closing titles music. The launch of the Phoenix re-appeared in The Man Who Came Back doubling for the NASA rocket that ferries Straker and Collins to repair SID, and the spacesuits worn by Ross and Kane were regularly seen on the Moonbase astronauts in UFO.
The biggest props to re-appear in UFO were a pair of futuristic cars, two of three designed for Doppelgänger by Ford consultant designer Len Bailey. Constructed of aluminium, the cars were assembled over a six month period on modified Zephyr-Zodiac platforms fitted with Escort engines and gearboxes. The most memorable feature of these cars were their gull-wing doors, which – as they were not counterbalanced – had to be opened by stage hands out of shot. A metallic grey for Doppelgänger, one of the cars was resprayed a tan/gold colour and became Commander Straker's car in UFO, while a second was sprayed lilac and became Colonel Foster's car. A trio of jeeps were also designed for Doppelgänger by visual effects director Derek Meddings and constructed on British Leyland Mini Mokes by Space Models at Feltham – two of these were later sprayed blue and seen regularly as SHADO jeeps in UFO.
Filmed over the summer months of 1968 at Pinewood Studios and on location in Portugal, Doppelgänger was helmed by American director Robert Parrish whose previous work included The San Francisco Story (1952) and certain scenes in Casino Royale (1967). The production was not without its difficulties. Actress Tisha Sterling was originally cast as Ross' wife Sharon, but when Sterling arrived in Britain to begin filming, she was discovered to be suffering from illness and marital problems which rendered her incapable of fulfilling her obligations. She was replaced at the eleventh hour by Lynn Loring, real life wife of Roy Thinnes who had fortunately accompanied him to Britain. Scenes between Patrick Wymark (as Jason Webb) and Peter Dyneley (originally cast as David Poulson and previously the voice of Jeff Tracy in Thunderbirds) had to be completely re-shot with Ed Bishop in the Poulson role when rushes revealed that the physical similarity between Wymark and Dyneley would confuse audiences. Then, in September 1968, Parrish took his cast and crew to Portugal for location filming just as Prime Minister Antonio Salazar fell ill and was deposed by Marcello Caetano – fearing the possible consequences of the coup, Parrish cut short the shooting schedule and quickly completed the necessary scenes within two weeks.
Filming was additionally complicated for the crew during the scenes set on the 'mirror' planet: all of these sequences (from the point at which the Dove crashes and Ross is rescued) were shot the correct way round and the negative was then reversed to create a mirror-image print for the final edit (a process called "flop-over"). While this eliminated the need for the expensive creation of mirror-image sets, props and costumes, all picture composition and movement had to be planned for being seen the other way round.
The film's visual effects were shot at the Century 21 Studios in Slough, where production on the Supermarionation series Joe 90 was coming to an end and pre-production on the next Anderson series, The Secret Service, was just getting underway. Other location work on the film took place at the ATV Studios at Elstree (now BBC Elstree) where the main administration block, Neptune House, doubled for the Eurosec headquarters building. The building was later seen as the Harlington-Straker Film Studios in UFO and now appears on British television as Holby City Hospital in the medical drama Holby City. The house and gardens of Heatherden Hall at Pinewood Studios (previously seen as SPECTRE Island in From Russia With Love) appeared in the film's closing moments, as the nursing home where Jason Webb ends his life.
Doppelgänger premiered in the UK on 8th October 1969, by which time the team at Century 21 had completed 13 episodes of The Secret Service and shot over half of the episodes of UFO's first production block.
American prints of the film featured two differences in the title sequence: aside from the main title caption being altered to reflect the different American release title, Roy Thinnes was given star billing over Ian Hendry. Some British prints (although not all, oddly) also featured an additional voice-over during the climax: in the corridor at the nursing home, as he reaches out for the mirror Webb hears Ross' voice telling him, "Jason, we were right. There are definitely two identical planets" (taken from earlier in the film, this is a line of dialogue that Webb never heard spoken as communications between Webb and Ross were cut mid-sentence).
Robert Parrish directed only three features after Doppelgänger: the violent Western A Town Called Bastard (1971 – aka A Town Called Hell) starring Martin Landau, the crime thriller The Marseilles Contract (1974) and Mississippi Blues (1984) co-directed with Bertrand Tavernier. He died in December 1995, aged 79.
Screenings of Doppelgänger on British terrestrial television over the last ten years have featured an incorrectly produced print: the person responsible for creating this print was unaware of the film's central premise and performed a second "flop-over" on the 'mirror' planet footage, in the mistaken belief that it was the wrong way round. This, of course, made nonsense of this section of the film (particularly Ross' slow realisation that he has not returned to Earth after all) and thereby gave viewers the impression that they were watching the 'mirror' planet's Ross here on Earth.
Doppelgänger has yet to be shown on British television under its original title as stations have only broadcast the American version of the film. It has been released on laserdisc, DVD and Blu-ray Disc formats as Journey To The Far Side Of The Sun. Only two 35mm film prints of the British version of Doppelgänger are known to exist: one is owned by the British Film Institute, the other by Fanderson.
Cast List
Dr. John Kane
Ian Hendry
Colonel Glenn Ross
Roy Thinnes (billed above Ian Hendry on US prints)
Jason Webb
Patrick Wymark
Sharon Ross
Lynn Loring
Lise Hartman
Loni Von Friedl
Paulo Landi
Franco Derosa
Mark Neuman
George Sewell
David Poulson
Edward Bishop
Dr. Pontini
Philip Madoc
Dr. Beauville
Vladek Sheybal
Monsieur Clavel
George Mikell
Dr. Kurt Hassler
Herbert Lom
Flight Director
Keith Alexander
Pam Kirby
Norma Ronald
Dr. Gordon
Cy Grant
Control Technician
Jeremy Wilkin
Monitoring Station Technician
Basil Moss
Ulan-Bator Air/Sea Rescue
Anthony Chinn
Control Technician (Medical)
Nicholas Courtney
Dove Service Technician
Martin King
Male Nurse
Jon Kelley
Nurse
Annette Kerr