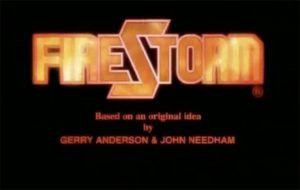 In 2104 AD the nations of Earth are no longer threatening each other with nuclear annihilation and have resolved their territorial disputes. The major nations have created a new crime-fighting organisation, Storm Force, comprising military and academic experts to fight the organised crime syndicate Black Orchid.
Produced: 2001-02
First Japanese broadcast: 6th April 2003
26 episodes x 24 minutes
Based on an Original Idea by Gerry Anderson and John Needham
Producer for TV Tokyo Shunji Aoki
Producer Akihiko Hirane
Supervising Director Kenji Terada
Animation Producer Eiji Imanari
3D Animation Producer Tatsuya Obara
3D Modelling Computer Cafe, Digital Media Lab Inc.
Planning Kazuaki Inukai (Itochu Fashion System)
Visual Supervisor Hidetoshi Omori, Simmei Kawahara
Character Design Kenichi Onuki, Steve Kyte
Mechanical Design Tatsuya Tomosugi, Susumu Imaishi, Steven Begg
Colour Setting Norioki Sakai, Megumi Nagasaka
Director of Photography Haruhiko Tsurmura
Sound Director Jun Watanabe
Music Composed by Fumitaka Anzai
Main Title Song 'Stormy Love'
Lyrics by Kenzo Isurugi
Composed by Seiji Katsu
Arranged by Fujirmaru Yoshino
Performed by The NaB's (Universal Music)
End Title Song 'Kimi to ita hoshi' (episodes 1-13)
Lyrics by Karl/Yuhki, Hikaru Yamazaki
Composed and Arranged by Fujimaru Yoshino
Performed by The NaB's (Universal Music)
End Title Song 'Re-Set' (episodes 14-26)
Lyrics by Nakajima Takui
Composed and Arranged by Nakajima Takui
Performed by Takui (Unlimited Records)
Produced in association with Plum Tama Production Co., Ltd., Suwara Production Co., Ltd., Trident College of International Technology, Digital Hollywood, Osaka Information and Computer Science College, Too Corporation, Studio Bit, Pams, Synapse
Animation Production TransArts
Production Cooperation Enoki Films
Produced by ltochu Fashion System and TV Tokyo
Episodes List
1
SF 9


Commander McAllister assembles an elite team of Storm Force operatives to combat Black Orchid, but he has yet to find a fifth person to complete the group. Then the US Navy's South Pacific Ocean 3rd Base comes under attack from Black Thunder fighters, a squadron of Thunderflash aircraft stolen from the UN and modified by Black Orchid.

McAllister dispatches Thunderflash fighters from the submarine headquarters of Storm Force 4, but defending the US naval base from the Black Orchid squadron proves to be a baptism of fire for Nagisa Kisaragi, the only engineer capable of effectively piloting Storm Force's prototype Thunderbolt fighter.

Screenplay by Kenji Terada

Directed by Yoshihiro Mori

Original Japan Airdate: Sunday, 6th April 2003 – 9:00am (TV Tokyo)

Additional Voice Cast:

Babi Junichi Endo
Yasu Hisayoshi Suganuma
Todd Yuki Sato
Crew Sayaka Maeda, Kenji Hirai

2
Countdown


Black Orchid threatens to blow up the Channel Tunnel at 2:00am on 14th April unless the British and French governments hand over 100 billion European dollars. Storm Force 9 fly to France to check the security within the tunnel and president of the Channel Tunnel company assures Sam's team that the structure is secure. Laura is not so sure: she realises that Black Orchid could have planted explosives on the other side of the tunnel walls by sinking a freighter loaded with bombs in the English Channel. The team board Seasharks 1 and 2 to locate the bomb ship but as Laura attempts to deactivate the detonators on the bomb clusters, time is running out…

Screenplay by Kenji Terada

Directed by Rokou Ogiwara

Original Japan Airdate: Sunday, 13th April 2003 – 9:00am (TV Tokyo)

Additional Voice Cast:

Company President Naoki Imamura
Tunnel Engineer Keisuke Baba

3
Black Orchid


After a small aircraft suddenly disappears from radar in Siberia, Storm Force detects signals emanating from a Black Orchid base in the same area. SF 9 is dispatched to investigate and they track the signal source to a deserted village where Morelli is organising his next operation. Wesley uses a sophisticated listening device to overhear Morelli's plans, learning that he has sent one of his agents to Chicago to contaminate the water supply with a 'Love Potion', a drug that will make the human race subservient to Black Orchid. The SF 9 team have just 38 hours to detect Morelli's agent before the people of Earth are left defenceless.

Screenplay by Norifumi Terada

Directed by Kazuyoshi Yokota

Original Japan Airdate: Sunday, 20th April 2003 – 9:00am (TV Tokyo)

Additional Voice Cast:

Alexander Kosminov Tomohisa Aso
Black Orchid Agent Naoki Imamura

4
Carlo Morelli


SF 9 have discovered that Black Orchid are extra-terrestrials intent on weakening Earth's defences in advance of the arrival of their invasion fleet. Now an energy wave  penetrates the Storm Force communications net, transmitting a message from Morelli in which he announces that only by subjugating themselves to the will of Black Orchid can the humans prevent the destruction of Earth. The signal is traced to the Brazilian rain forest so the SF 9 team travel up the Amazon on new power launches designed by Chuck. After an accident with one of the boats leaves the others stranded, Sam and Wesley locate the alien transmitter – only to discover that they have walked into a trap!

Screenplay by Sukehiro Tomita

Directed by Rokou Ogiwara

Original Japan Airdate: Sunday, 27th April 2003 – 9:00am (TV Tokyo)

Additional Voice Cast:

Communications Crew Tetsu Inada

5
Barracuda


Storm Force tracks an alien spacecraft which penetrates Earth's defence net and takes up a position over the Gargantua, the world's largest automated supertanker, which is cruising in the Atlantic with a full load of liquid hydrogen. The UFO is discovered to be delivering alien weapons of superior firepower to Black Orchid so McAllister dispatches SF 9 to prevent the weapons from ever being used on Earth. James undertakes a dangerous mission aboard a new one-man mini-sub, the Barracuda, in a race against  time to penetrate the supertanker's hull with an incendiary chemical and detonate it by remote control before the UFO completes its delivery.

Screenplay by Sukehiro Tomita

Directed by Yoshitaka Fujimoto

Original Japan Airdate: Sunday, 4th May 2003 – 9:00am (TV Tokyo)

6
Sabrefish


Seeking vengeance for SF 9's successful strike against the alien supply ship, Morelli announces that Black Orchid will destroy the USS Colorado, the world's largest aircraft carrier with a complement of 8,000. Flying to Hawaii, Sam, Wesley, Laura and Nagisa join Captain Hamilton aboard the carrier as the ship sets out from Pearl Harbor escorted by two frigates and the USS Sabrefish, a state-of-the-art submarine equipped with the Navy's latest missile technology. The Sabrefish is under the command of Hamilton's old friend Captain Thomas Nicholson, but Sam soon discovers that Morelli has replaced Nicholson with an alien duplicate!

Screenplay by Kenji Terada

Directed by Yoshihiro Yamaguchi and Koji Ito

Original Japan Airdate: Sunday, 11th May – 9:00am (TV Tokyo)

Additional Voice Cast:

Captain Thomas Nicholson Toru Okawa
Captain Hamilton Ikuya Sawaki

Frigate Captain Naoki Imamura

7
Ocean Diner


The Zolions release savage extra-terrestrial sharks into the sea near Ocean Storm's position. Attracted to the alloy of the submarine's hull, the sharks attack the Storm Force headquarters, flooding compartments throughout the ship. McAllister realities that he cannot take the submarine up to the surface for repairs as the aliens may be lying in wait to destroy Ocean Storm. In order to lure the sharks away from the ship, Sam sets out in one of the Seasharks with Ocean Diner, a robot decoy filled with explosives, in tow. But the plan goes badly wrong when the alien fish damage the Ocean Diner's circuits, rendering Sam's remote detonator useless!

Screenplay by Sukehiro Tomita

Directed by Rokou Ogiwara

Original Japan Airdate: Sunday, 8th May 2003 – 9:00am (TV Tokyo)

Additional Voice Cast:

Crewmen Keisuke Baba, Tetsu Inada, Naoki Imamura

8
Deep Sea


Tests in Antarctica confirm that Ocean Storm cannot be detected from the air while the submarine remains hidden beneath the pack ice. Suddenly a Zolion spacecraft appears, destroying SF's SeaHawk aircraft. When Ocean Storm surfaces to launch the Tornado, the alien craft attacks, badly damaging the ship with an energy beam. The sub comes to rest on the sea bed deep beneath the ice, but the engines and oxygen supply are  damaged and with the alien craft lying in wait above for Ocean Storm to resurface, the crew are trapped. Sam and Wesley launch the Seasharks to target the Zolion craft with a small atomic bomb, but time is running out for those left behind…

Screenplay by Sukehiro Tomita

Directed by Yukio Okazaki

Original Japan Airdate: Sunday, 25th May 2003 – 9:00am (TV Tokyo)

9
Wings


Black Orchid operatives take control of an American missile base in North Dakota and Storm Force learns that in eight hours the aliens will use the base to launch a missile attack on the headquarters of the US defence network in Oregon. The SF 9 team is dispatched to North Dakota in the Tornado to try and prevent the attack. They make an assault on the missile base with the Combat Cruiser, but the alien replicant of the base's commanding officer retreats into an impenetrable underground operations centre with his Black Orchid squad. Nagisa has an idea how to gain access and recruits Chuck's help in constructing three remote-controlled model helicopters….

Screenplay by Kenji Terada

Directed by Yuzo Yamada

Original Japan Airdate: Sunday, 1st June 2003 – 9:00am (TV Tokyo)

Additional Voice Cast:

Officer Kenichi Ono
Missile Base Operative Tetsu Inada

10
Pilot


Black Orchid announce that they have kidnapped Laura's parents and will kill them in 24 hours unless she goes alone to designated coordinates in the Cambodian jungle. McAllister accedes to Laura's request to comply with the demands and she pilots a Thunderbolt to the rendezvous while her SF 9 colleagues remain behind in the Tornado. Captured by Black Orchid troops, Laura remote destructs the Thunderbolt to prevent it from falling into the aliens' hands. She is taken to a secret base nearby where Morelli and Ruth order her to build them a powerful bomb capable of destroying an underground defence complex from the surface above – if she refuses, her parents will die!

Screenplay by Kenji Terada

Directed by Rokou Ogiwara

Original Japan Airdate: Sunday, June 8th, 2003 – 9:00am (TV Tokyo)

Additional Voice Cast:

Laura's Father Masato Hirano
Laura's Mother Kahn Kouda

11
Laser Cannon


Morelli's forces take control of an OSEA installation on Christmas Island where a powerful laser cannon is being used to destroy derelict man-made satellites in Earth orbit. Morelli's plan is to target the laser cannon on Stargazer, an early warning satellite that has been instrumental in detecting the approach of the Zolion spacecraft. SF 9 parachute onto the island with Chuck's new All-Terrain Drilling Vehicle to destroy the cannon's power supply before Morelli's operatives can determine the coordinates of Stargazer, but they may already be too late…

Screenplay by Sukehiro Tomita

Directed by Rokou Ogiwara

Original Japan Airdate: Sunday, 15th June 2003 – 9:00am (TV Tokyo)

12
Lightning


A Storm Force 2 pilot is caught in a violent thunderstorm while on a scouting mission and reports a sighting of a strange airship just before his Thunderbolt is destroyed. SF2 Commander Inuma, an old friend of McAllister, arrives on Ocean Storm to assist the search for the wreckage of his pilot's vehicle, but then notification is received from SF Command that two other Thunderbolts have also been mysteriously destroyed. Sam volunteers to pilot Thunderbolt 1 as bait for the enemy airship and discovers it to be a weapon which absorbs thunder and transforms it into a powerful energy beam!

Screenplay by Kenji Terada

Directed by Ryoichi Ashizawa

Original Japan Airdate: Sunday, June 27th 2003 – 9:00am (TV Tokyo)

Additional Voice Cast:

13
Petros Salo I


Morelli's Zolion superior, Petros Salo, arrives on Earth bringing a supply of alien weapons to arm Black Orchid. When SF 6 learn of the shipment and locate the Black Orchid base in Vietnam from which the weapons will be distributed, McAllister joins the SF 9 team on a mission to destroy the stockpile before it can be disseminated to Black Orchid cells around the world. Meanwhile, Salo has taken on a human disguise and now informs Morelli that Storm Force has discovered their location. Anticipating SF 9's arrival, he sets a trap to destroy McAllister's unit once and for all: as SF 9 close in on the Black Orchid base, their Combat Cruiser is ambushed by Morelli's alien army!

Screenplay by Kenji Terada

Directed by Yoshizo Tsuda

Original Japan Airdate: Sunday, 29th June 2003 – 9:00am (TV Tokyo)

Additional Voice Cast:

Petros Salo Unsho Ishizuka
Black Orchid Operative Tetsu Inada
Crew Naoki Imamura

14
Petros Salo II


SF 9's mission in Vietnam has resulted in the capture of the extra-terrestrial commander Petros Salo who is imprisoned aboard Ocean Storm. However, Sam and Nagisa are still missing so McAllister allows James and Laura to return to Vietnam in search of them. There, Sam and Nagisa remain trapped inside Morelli's weapons storage hangar but they work out how to access the aliens' strange cubic storage containers and use a Zolion handgun to blast a hole in the hangar doors. Meanwhile, the devious Salo escapes from the Ocean Storm brig and threatens to detonate a powerful grenade unless McAllister hands over the engineering plans of the submarine!

Screenplay by Kenji Terada

Directed by Rokou Ogiwara

Original Japan Airdate: Sunday, 6th July 2003 – 9:00am (TV Tokyo)

Additional Voice Cast:

Petros Salo Unsho Ishizuka

15
Escape


McAllister dispatches Storm Force 9 to Russia when Black Orchid troops take control of a nuclear power station. As the team approach the plant in the Combat Cruiser, Mai Teranishi, a nuclear energy specialist from SF 5, confirms what McAllister fears: that Black Orchid probably intends to destabilise the reactor which would have disastrous consequences for the whole planet. The plant can only be accessed covertly from a 60-foot tower adjacent to the control building so Chuck constructs an elevator vehicle to ferry Sam, Wesley, Laura and Mai to the top, but as they finally penetrate the alien defences, Morelli initiates the meltdown procedure!

Screenplay by Sukehiro Tomita

Directed by Rokou Ogiwara

Original Japan Airdate: Sunday, 13th July 2003 – 9:00am (TV Tokyo)

Additional Voice Cast:

Mai Teranishi Yuko Nagashima
Yuli Sayaka Maeda

16
Monster


In a disused gold mine in Tibet, an explorer is attacked by something he can only describe as a monster, and his last video transmission appears to show a rat which is 15 feet long. Then Storm Force detects a jamming wave in operation in the area, so McAllister sends SF 9 to investigate. Using Chuck's new mountain motorbikes, Sam and his colleagues access the region and search the mine for signs of Black Orchid activity. Nagisa discovers the secret entrance to an alien research facility but she is captured by Morelli. Thrown into a maze complex, she is used as bait in an experiment with Black Orchid's giant super-intelligent killer rats!

Screenplay by Katsuyuki Sumisawa

Directed by Rokou Ogiwara

Original Japan Airdate: Sunday, 20th July 2003 – 9:00am (TV Tokyo)

Additional Voice Cast:

17
Brain Storm


Ocean Storm's engine room chief mechanic Steven Johnson is on vacation when he is ambushed by Black Orchid. Under Morelli's control, he returns to the submarine and places a bomb in the Tornado's port wing which explodes when SF 9 set off on a mission to investigate a UFO sighting in the South Pacific. Julia and Lucy are injured but Sam and Nagisa manage to regain control of the craft and return to Ocean Storm. Johnson frames his colleague Shimoto and the man is thrown in the brig, leaving the real  saboteur at liberty to arrange the destruction of the new Tornado.

Screenplay by Kenji Terada

Directed by Takeshi Shirato

Original Japan Airdate: Sunday, 27th July 2003 – 9:00am (TV Tokyo)

Additional Voice Cast:

Steven Johnson Bin Shimada
Shimoto Nobuyuki Hiyama
Tetsu Shinji Kawada

18
Oasis


SF 9 race to investigate the source of a Black Orchid signal in the Sahara desert. Suspecting a trap, the team leave the Tornado and cautiously approach the target area in the Combat Cruiser, but they suddenly lose contact with Julia and Lucy. Incredibly, an oasis complete with coconut trees rises up out of the sand as if by magic and as Sam drives closer, the trees split open to launch heat-seeking missiles at the Cruiser. The team jump clear just seconds before the vehicle is hit and when the oasis disappears again, the quintet is left stranded without transport. Then a violent sandstorm whips up and the group take refuge in the remains of the Cruiser, but Nagisa is sucked into the vortex.

Screenplay by Rima Kitaki

Directed by Rokou Ogiwara

Original Japan Airdate: Sunday, 3rd August 2003 – 9:00am (TV Tokyo)

19
Robot Bird


Nagisa is flying home to visit her mother in Tokyo when a Black Orchid operative disguised as an air stewardess plants a homing device in her purse. Later, while she is walking her mother's dog, she is attacked by a giant robot bird and carried away over Tokyo Bay. The other members of SF 9 race to the rescue in the Thunderbolts and soon locate the robot bird which Morelli is using to extract vital data about Storm Force from Nagisa's mind. Horrified, Sam realises that he cannot shoot the robot bird down without causing Nagisa to fall into the shark-infested sea below!

Screenplay by Kenji Terada

Directed by Kenichi Masaki

Original Japan Airdate: Sunday, 10th August 2003 – 9:00am (TV Tokyo)

Additional Voice Cast:

Nagisa's Mother Kumiko Takizawa
Yoko Haruhiko Tokuyama

20
Vortex


Storm Force has found a weakness in the force field which surrounds each Zolion attack ship – a vortex leading up into the base which provides an opening for a missile strike. However, the magnetic field inside the vortex disrupts the Thunderbolt pilots' missile controls and an attempt by SF 7 to destroy one of the alien craft ends in tragedy. Then the US Navy's 7th Base comes under attack from a Zolion ship and SF 9 race to the defence, but without a reliable missile guidance system and a way of determining the safe optimum strike position for the Thunderbolts, the team realise that they may be on a suicide mission.

Screenplay by Kenji Terada and Yoshihiro Shirataki

Directed by Rokou Ogiwara

Original Japan Airdate: Sunday, 17th August 2003 – 9:00am (TV Tokyo)

Additional Voice Cast:

Jess Naoki Imamura
Operator Tetsu Inada
Pilot Kenji Hirai

21
Planet Zolion


Abandoning their covert operations, Black Orchid interrupts all radio and television transmissions for a worldwide broadcast in which Carlo Morelli announces that the Zolion invasion fleet will arrive in five weeks' time. He demands the unconditional surrender of the people of Earth – if they fail to comply, the human race will be wiped out by the invaders. Storm Force resolves to use every resource to fight the aliens and the organisation is united under the codename of their defence operation – FireStorm! In preparation for the battle to come, the SF 9 team begin a gruelling training regimen with a dangerous free fall halo drop.

Screenplay by Kenji Terada

Directed by Yukio Okazaki

Original Japan Airdate: Sunday, 24th August 2003 – 9:00am (TV Tokyo)

22
Trap


Sam provides back-up during a Storm Force 5 operation to destroy a Black Orchid base hidden beneath an ancient Mayan temple. When Morelli is spotted attempting to escape in his armed limousine, Sam pursues and then destroys the car when the Zolion leader refuses to surrender. But the 'Morelli' found dead inside is discovered to be an alien replicant, perhaps just one of many. Wesley proposes a plan to capture the real Morelli, inspiring Chuck to design and build a fantastic new limousine which Morelli is unable  to resist when he sees it advertised on the Tomorrow Today television programme…

Screenplay by Rima Kitaki

Directed by Rokou Ogiwara

Original Japan Airdate: Sunday, 31st August 2003 – 9:00am (TV Tokyo)

Additional Voice Cast:

TV Host Tetsuo Sakaguchi
Robert Tetsu Inada

23
Psycho Power


After the success of the operation in Las Vegas, Morelli and Ruth are imprisoned aboard Ocean Storm but act as if they are unconcerned by their predicament. SF 9 medical specialist Gina discovers that the two extra-terrestrials have some kind of higher brain function, but before her medical analysis can be concluded, Morelli and Ruth use their incredible telekinetic powers to escape from the brig. As the SF 9 team search the ship, the aliens make their way to one of the Seashark hangars and leave the submarine in Seashark 1. Sam and Wesley take up pursuit in Seashark 2 but Morelli has telepathically summoned a Zolion spacecraft to the area…

Screenplay by Sukehiro Tomita and Kenji Terada

Directed by Yukio Okazaki

Original Japan Airdate: Sunday, 7th September 2003 – 9:00am (TV Tokyo)

Additional Voice Cast:

Gina Yumi Toma
Security Guards Tetsu Inada, Keiji Hirai

24
Pyramid


Storm Force detects a homing signal being transmitted from one of the pyramids at Giza in Egypt and McAllister suspects that it is a beacon guiding the Zolion invasion fleet to Earth. Two Storm Force 7 operatives are mysteriously killed while examining the pyramid so SF 9 is sent to investigate and shut down the beacon. Leaving Wesley and Laura on watch outside to intercept any Black Orchid operatives who might be flushed out, Sam, Nagisa and James enter the maze of tunnels inside the pyramid. But they  soon discover that the ancient structure has been transformed into a complex of deadly traps!

Screenplay by Kenji Terada

Directed by Rokou Ogiwara

Original Japan Airdate: Sunday, 14th September 2003 – 9:00am (TV Tokyo)

Additional Voice Cast:

Shido Tetsu Inada
MacKenzie Hidekatsu Ugaki
Valente Takayasu Usui
Duvale Naoki Imamura

25
Invasion


The Zolion homing transmitter has been captured by Storm Force and McAllister orders that its operation be maintained so as to delude Morelli that his Black Orchid forces are still in control. As 20 Zolion Pathfinder ships approach Earth in advance of the invasion fleet, Chuck works around the clock to modify a Thunderbolt for space flight. In Egypt, the SF 9 team wait for the beacon's next signal to be transmitted before stripping down the device and ferrying it to a rendezvous with the Tornado. Suddenly Stargazer reports that the Pathfinder ships have entered the atmosphere…

Screenplay by Rima Kitaki and Kenji Terada

Directed by Yukio Okazaki

Original Japan Airdate: Sunday, 21st September 2003 – 9:00am (TV Tokyo)

Additional Voice Cast:

26
Final Signal


While Wesley, Laura and Commander Inuma distract the Pathfinder ships, Sam and Nagisa break through the blockade in the Space Thunderbolt on a dangerous mission to lure the Zolion invasion fleet into the Sun. James, Sophia and Hiroko race to Egypt in their Thunderbolts to join the battle but suddenly Morelli arrives to send the final homing signal to the invasion fleet. As SF 9 attempt to prevent Morelli from accessing the pyramid and learning that the beacon is no longer inside, Sam sets the Space Thunderbolt on a course that will take the Zolion transmitter as close as possible to the Sun…

Screenplay by Kenji Terada

Directed by Rokou Ogiwara

Original Japan Airdate: Sunday, 28th September 2003 – 9:00am (TV Tokyo)

Additional Voice Cast:

Todd Yuki Sato
Shido Tetsu Inada
Cast List
Commander Drew McAllister
Takeshi Watabe
Commander Sam Scott
Masaya Takatsuka
Commander Nagisa Kisaragi
Yoshino Takamori
Captain Laura Hope
Yuko Sumitomo
Lieutenant James Brady
Jin Horikawa
Lieutenant Wesley Grant
Tomoyuki Shimura
Julia
Nori Horikoshi
Lucy
Yuka Shioyama
SF Commander
Tetsu Inada
Narrator
Naoki Imamura
Chuck Morgan
Takeshi Aono
Carlo Morelli
Kenji Utsumi
Ruth Miller
Mari Yokoo
SF Commander
Yosuke Akimoto
Jack
Keisuke Baba
Hiroko
Sayaka Maeda
Commander Inuma
Hidekatsu Shibata
Sophia
Miki Machii