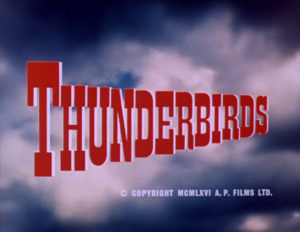 The continuing adventures of International Rescue and their London Agent, Lady Penelope Creighton Ward, in the year 2067.
AP Films/ATV/ITC
Produced: 1966
First UK broadcast: 2nd October 1966
6 episodes x 50 minutes
Executive Producer: Gerry Anderson
Producer: Reg Hill
Associate Producer: John Read
Characters Created by Sylvia Anderson
Lighting Cameraman: Paddy Seale and Julien Lugrin
Supervising Art Director: Bob Bell
Art Director: Grenville Nott
Script Editor: Alan Pattillo
Supervising Special Effects Director: Derek Meddings
Special Effects Directors: Jimmy Elliott and Shaun Whittacker-Cook
Music Composed and Directed by Barry Gray
Episodes List
1
Atlantic Inferno


Jeff reluctantly accepts an invitation to holiday with Lady Penelope at her farm in Bonga Bonga, Australia, leaving Scott in temporary command of International Rescue. Meanwhile, the World Navy is testing gyropedoes in the Atlantic but one of their missiles goes wild, exploding on the sea-bed and igniting a gas field beneath the crust, throwing up a huge column of fire which endangers the crew of the drilling rig Seascape. Scott dispatches Gordon in Thunderbird 4 to cap the escaping gas with a sealing device, putting out the flame, but Jeff is furious as he does not believe that the situation warranted International Rescue's involvement. However, the gas field remains ignited beneath the sea-bed and another burst fractures one of the rig's legs. Crewmen Hooper and O'Shea submerge in a diving bell to check the damage, but a third explosion causes the the rig to slip further and the diving bell crashes to the sea-bed trapping Hooper and O'Shea inside!

Written by Alan Fennell

Directed by Desmond Saunders

Edited by Harry MacDonald

Original UK Airdate: 2nd October 1966 – 5.05pm (ATV London/Anglia)

First UK Network Broadcast: 17th April 1992 – 6.00pm (BBC2)

Major Equipment: TB1, TB2 (Pod 4), TB4, TB5, FAB 1, Magnetic Grabs, Sealing Device, Seascape, Atom Sub Reaper, Road Construction Vehicle, Desert Jeep, Jeff's Jet

Additional Voice Cast:

Frank Hooper John Tate
Dick O'Shea Jeremy Wilkin
World Navy Commander Peter Dyneley
Atlantic Captain David Graham
Sir Harry John Tate
Atom Sub Reaper Captain Ray Barrett
Atom Sub Reaper Lieutenant Matt Zimmerman
Cravitz Jeremy Wilkin
TV Reporter Ray Barrett

Notes

This was the first episode of the series' second production block, originally screened as part of a repeat run of the earlier episodes in 1966 (it was preceded only by Trapped In The Sky). In some areas (including ATV Midlands), this and the following five episodes were first broadcast as two-part episodes in 25-minute instalments.

The Road Construction Vehicle seen in the opening sequence previously appeared as the Gray and Houseman Road Construction Vehicle in End Of The Road, although it has been repainted yellow for its appearance here. The World Navy Commander was last seen as the Commander of Matthews Field in The Cham-Cham. This is the only episode in which anyone other than Scott is seen piloting Thunderbird 1, namely Alan.

Atlantic Inferno was adapted for audio on the Century 21 Mini-Album Atlantic Inferno (MA 125 1967) narrated by David Graham as Gordon Tracy. It was adapted for audio again on Penguin Audiobooks' Thunderbirds – 4 (ISBN 014180338X, 2001) audiocassette collection with additional narration by William Roberts. The episode was also adapted as a comic strip by Alan Fennell and Keith Page in Thunderbirds: The Comic (issues 27-29 1992).

Oops!

Lady Penelope's sheep-counting meter is useless to her as it only counts to five digits. She needs six digits to count all of her 200,007 sheep.

2
Path Of Destruction


Crablogger One, a huge tree-felling machine, arrives at base camp in South America in preparation for its first mission. The base commander, Jansen, takes the crew for a meal at a local restaurant in nearby San Martino and all but Jansen have the 'special'. The next morning, when the Crablogger sets off from the camp, both of the two-man crew collapse, victims of food poisoning, and the Crablogger veers off course, heading straight for San Martino. To make matters worse, the vehicle has to be constantly relieved of the supplies of wood pulp that it produces whilst in motion, for if the machinery jams the resulting explosion of the Superon-fuelled atomic reactor would lay waste to everything within a 50-mile radius. The only way to stop the huge machine is to activate the secret reactor shut-down procedure from inside the control cabin, which can only be accessed through the roof of the vehicle. Jansen calls International Rescue…

Written by Donald Robertson

Directed by David Elliott

Edited by Harry MacDonald

Original UK Airdate: 9th October 1966 – 5.05pm (ATV London/Anglia)

First UK Network Broadcast: 24th April 1992 – 6.00pm (BBC2)

Major Equipment: TB1, TB2 (Pod 3), TB5, FAB 1, Crablogger 1, Desert Jeep, Mobile Crane, Hover Packs

Additional Voice Cast:

Jansen Ray Barrett
Simms David Graham
McColl John Tate
Jim Lucas David Graham
Peterson Jeremy Wilkin
Franklin Matt Zimmerman
Sanchos David Graham
Maria Sylvia Anderson
Gutierrez Matt Zimmerman
Manuel David Graham
Security Guard Ray Barrett
Lucas Christine Finn

Notes

Base camp operative Simms previously appeared as Dave Clayton in Day Of Disaster. Dam site manager Manuel was originally seen as General Bron in Edge Of Impact. The incidental theme for the Crablogger was originally composed as the theme for the Sidewinder in Pit Of Peril. A live mouse appears with Maria on the puppet set of the restaurant kitchen.

Director David Elliott decided that he had had enough of working with puppets and left the company after completing this episode, bringing to an end a working relationship with Gerry Anderson that had started in the editing rooms at Pinewood Studios 13 years earlier.

Oops!

Crablogger designer Jim Lucas lives at 75 Sunnigale Road, Eppington Wood East, Somerset according to the card that Penelope finds in the personnel files at Robotics International, but she reads it out to Parker as "20 Hazlemere Gardens, Iresham".

3
Alias Mr. Hackenbacker


Using the alias Hiram K. Hackenbacker, Brains has designed a revolutionary new airliner for Atlantic Airlines, the Skythrust, which incorporates a top secret design feature to make it the safest craft in the skies. Penelope believes that the vehicle's maiden flight from Paris to London will be ideal for the unveiling of a new fashion collection designed by her friend Francois Lemaire. Lemaire has developed an incredible new fibre, Penelon, which can fold up so compactly that a complete outfit will fit into a cigarette box without creasing, but the secret formula for Penelon is highly sought-after by his competitors. Skythrust takes off, the fashion show begins and Penelon is a huge success with the invited guests, but Lemaire' assistant Madeline hi-jacks the plane, giving Captain Ashton instructions to head for the Sahara Desert. Assisted by her co-conspirator Mason, Madeline plans to steal Lemaire's entire collection!

Written by Alan Pattillo

Directed by Desmond Saunders

Edited by Harry MacDonald

Original UK Airdate: 16th October 1966 – 5.05pm (ATV London/Anglia)

First UK Network Broadcast: 1st May 1992 – 6.00pm (BBC2)

Major Equipment: TB1, TB2 (Pod 3), FAB 1, Skythrust, D103

Additional Voice Cast:

Captain Ashton Paul Maxwell
Francois Lemaire Ray Barrett
Commander Norman Peter Dyneley
Madeline Sylvia Anderson
Mason Jeremy Wilkin
Dierdre Christine Finn
Captain Saville Ray Barrett
Skythrust Co-Pilot David Graham
Control Tower Lieutenant Ray Barrett
D103 Pilot Jeremy Wilkin
1st Reporter Jeremy Wilkin
2nd Reporter Paul Maxwell
Officer, London Airport David Graham
Saville's Secretary Christine Finn
Telephone Operator Sylvia Anderson
Waiter David Graham
1st Fashion Buyer David Graham
2nd Fashion Buyer David Graham
Ross David Graham
Co-Conspirator Ray Barrett

Notes

This episode features the largest cast of characters (in speaking roles) seen in any Thunderbirds episode. Uncredited guest voice artist Paul Maxwell (Captain Ashton) previously voiced Colonel Steve Zodiac in Fireball XL5. He is also heard as Captain Paul Travers in Thunderbirds Are Go (1966) and later voiced Captain Grey in Captain Scarlet And The Mysterons. Hiram Hackenbacker is clearly a pseudonym adopted by Brains and is not his real name.

The 1st Reporter at the press conference is Frank Hooper from Atlantic Inferno. Brains's London Airport security pass is signed by series props maker Tony Dunsterville. The roof of the airport building also appears as the floor of the meeting room of the Space Exploration Center in Thunderbirds Are Go (1966).

Alias Mr. Hackenbacker was adapted for audio on the Century 21 Mini-Album Brains (MA 123 1967) narrated by David Graham as Brains.

Oops!

At the end of the episode, Penelope says that 1993 is the best year for champagne, but retrospect tells us that 1993 actually wasn't a particularly good year for champagne at all.

4
Lord Parker's 'Oliday


Professor Lungren has developed a solar generator which will, as its first test, power the sleepy Mediterranean town of Monte Bianco from a vantage point on a mountain overlooking the town. Penelope and Parker are among the invited guests at the hotel to witness this historic event, which all goes according to plan until a violent storm hits the surrounding area. The solar reflector dish is repeatedly struck by lightning and eventually buckles, crashing down the mountainside and lodging half-way with the reflector pointing directly at the village. The village is plunged into darkness as the solar power cuts off but then, as the storm clears, Monte Bianco is bathed in moonlight reflected by the huge dish. Everyone enjoys the spectacle, but Penelope suddenly realises the potential disaster: as the sun rises in the morning, the sunlight will be magnified and reflected on to the town, which will burn under the intense heat!

Written by Tony Barwick

Directed by Brian Burgess

Edited by Harry MacDonald

Original UK Airdate: 23rd October 1966 – 5.05pm (ATV London/Anglia)

First UK Network Broadcast: 8th May 1992 – 6.00pm (BBC2)

Major Equipment: TB1, TB2 (Pod 3), FAB 1, Magno-Grip

Additional Voice Cast:

Professor Lungren Peter Dyneley
Mitchell Charles Tingwell
Senor Faccini Jeremy Wilkin
Bruno Charles Tingwell
Party Goer David Graham

Notes

Uncredited guest voice artist Charles Tingwell (Mitchell and Bruno) also provided the voice of Zero X scientist Dr. Tony Grant in Thunderbirds Are Go (1966) and later voiced Dr. Fawn in Captain Scarlet And The Mysterons. The incidental music that opens this episode is a track entitled 'Pleasant Theme', first heard in the Supercar episode Amazonian Adventure. The jazz track 'Blues Pacifica', composed for the Stingray episode Tune Of Danger, is heard playing on the radio in FAB 1. FAB 1 is revealed to be equipped with hydrofoils which enable the car to travel on water at high speed.

Professor Lungren's assistant Mitchell previously appeared as Captain Ashton in Alias Mr. Hackenbacker. It appears that Senor Faccini has hired Cass Carnaby to perform at his hotel on this prestigious occasion, as the pianist from The Cham-Cham is seen in a brief clip from that episode. Other guests at the hotel include Madeline, Mason and Dierdre from Alias Mr. Hackenbacker and a female puppet who later appears as Nurse Nimmo in Give Or Take A Million.

5
Ricochet


Telsat 4 is launched from Sentinel Base, but the second stage fails to separate, even under manual control. International Space Control are contacted to allocate safe co-ordinates for the destruction of the rocket but, unknown to ISC, the co-ordinates they provide are dangerously close to those of unlicensed pirate television satellite KLA with DJ Rick O'Shea and his engineer Loman on board. The explosion of the rocket damages the satellite and Loman realises that they are headed for re-entry. Then he discovers that the breaking parachutes will not operate, so he goes outside to assess the damage but becomes trapped in the airlock when the inner door fails to open on his return. Unfortunately, Thunderbird 5 is non-operational as Gordon and John are fitting a new component, so when O'Shea uses the KLA transmitter to signal for help, his call goes unheard on the International Rescue space station…

Written by Tony Barwick

Directed by Brian Burgess

Edited by Harry Ledger

Original UK Airdate: 6th November 1966 – 5.05pm (ATV London/Anglia)

First UK Network Broadcast: 15th May 1992 – 6.00pm (BBC2)

Major Equipment: TB2 (Pod 3), TB3, TB5, KLA Satellite, Telsat 4

Additional Voice Cast:

Rick O'Shea Ray Barrett
Loman David Graham
Professor Mitchell Sylvia Anderson
Power Jeremy Wilkin
International Space Control Charles Tingwell
DJ Tom Jeremy Wilkin
Sentinel Base Computer David Graham

Notes

The Rick O'Shea puppet was created by sculptor Terry Curtis, who loosely based the character's features on those of actor Sean Connery. Curtis created closer likenesses of Connery's features for Captain Paul Travers in Thunderbirds Are Go (1966) and Captain Grey in Captain Scarlet And The Mysterons. This is the only second season episode in which Lady Penelope does not appear, and the only episode in the whole series in which we see Virgil piloting Thunderbird 3.

The song 'Flying High' that O'Shea plays as a request from Tin-Tin is an unused end titles song recorded for the series, performed by Gary Miller with backing vocals by Fred Datchler, Ken Barrie and Eddie Lester. The main theme from The Man From MI.5 is also heard on Rick's show and Little Luther's 'Shram-Shram' is an instrumental version of 'I've Got Something To Shout About' from the Stingray episode Titan Goes Pop. The ISC building previously appeared as the Satellite HQ tracking station seen in The Impostors and Cry Wolf. Professor Marshall is portrayed by Madeline from Alias Mr. Hackenbacker.

Ricochet was adapted for audio on the Century 21 Mini-Album Ricochet (MA 126 1967) narrated by David Graham as Brains. With a new introduction by Gerry Anderson, this audio adaptation was first broadcast on BBC Radio 5 at 8.05pm on December 3rd 1990.

Oops!

As Gordon and John fit the new component on Thunderbird 5, John is seen speaking with Gordon's voice for the line, "It looks like we'll be another two hours before we're back in business. In the meantime, International Rescue is non-operational."

6
Give Or Take A Million


In conjunction with Harman's Department Store, the directors of the Coralville Children's Hospital arrange for a container full of presents to be launched by rocket from the roof of the store and dropped in the hospital grounds on Christmas Day. By arrangement with Jeff, one of the gift boxes will contain an invitation for one of the Coralville children to visit Tracy Island and spend Christmas with International Rescue. As the rocket is being packed with presents on Christmas Eve, two crooks, Scobie and Straker, break into the Second National Bank from the toy department of Harman's, which is just next door. Using a harness on a pulley to lift him clear of the touch-sensitive vault floor, Scobie steals the gold reserves stacked on the shelves of the vault, but he accidentally dislodges a pencil from a table and it falls on to the floor, setting off the alarm. The two crooks hide in the container of toys, just as it is loaded on to the rocket…

Written by Alan Pattillo

Directed by Desmond Saunders

Edited by Harry MacDonald

Original UK Airdate: 25th December 1966 – 5.05pm (ATV London/Anglia)

First UK Network Broadcast: 20th December 1991 – 6.00pm (BBC2)

Major Equipment: TB2 (Pod 3), TB3, TB5, Container Rocket, Ladybird Jet

Additional Voice Cast:

Nicky Sylvia Anderson
Scobie Ray Barrett
Straker David Graham
Pringle Jeremy Wilkin
Lang Charles Tingwell
Nurse Nimmo Sylvia Anderson
Harman Ray Barrett
Saunders Jeremy Wilkin
TV Reporter Jeremy Wilkin
1st Santa Jeremy Wilkin
2nd Santa (Leo) David Graham
Tanner Charles Tingwell
Preston Peter Dyneley
Security Chief Joe Ray Barrett

Notes

The models of the Thunderbird vehicles seen on the table in front of Jeff and Nicky in the opening scene were commercially available at the time of this episode's initial broadcast. They are the Thunderbirds model toys produced by J. Rosenthal (Toys) Ltd. Unfortunately, Rosenthal's Thunderbird 5 didn't look very much like the genuine article, so it does not appear in this scene. The Thunderbird 3 launch footage seen in this episode is lifted from Thunderbirds Are Go (1966). Jeff tells Nicky that Thunderbird 3 is 287 feet high. During the Tracys' Christmas preparations, various calendars are seen which indicate that Christmas Day is a Sunday, which it actually will be in 2067, the year that the producers intended this episode to be set in.

Dr. Pringle previously appeared as the Commander of Matthews Field in The Cham-Cham, Dr. Lang is portrayed by Francois Lemaire from Alias Mr. Hackenbacker and toy packer Tanner was seen as Frank Hooper in Atlantic Inferno.

Oops!

Tin-Tin tears a page off a calendar which shows the date as 2026, but other calendars indicate that Christmas Day falls on a Sunday this year and December 25th 2026 will be a Friday. It is supposed to be the middle of the night when Virgil sets off in Thunderbird 2 for Coralville Hospital, but the Thunderbird 2 launch takes place in full daylight.
Cast List
Jeff Tracy
Peter Dyneley
Scott Tracy
Shane Rimmer
Lady Penelope Creighton-Ward
Sylvia Anderson
Virgil Tracy
Jeremy Wilkin
Alan Tracy
Matt Zimmerman
Brains
David Graham
Aloysius 'Nosey' Parker
David Graham
Tin-Tin Kyrano
Christine Finn
Gordon Tracy
David Graham
John Tracy
Ray Barrett
Kyrano
David Graham
Grandma Tracy
Christine Finn