As time passes in the Anderson world we find ourselves writing more and more for those no longer with us who worked both in front of and behind the cameras. Many of them have become our friends and some even colleagues. In recent times we have had the need to reflect and think of those who have passed away who are even closer to home in the fandom community.
Just a few months ago we learned that David Nightingale, one of the founders of Fanderson had left us and more recently were informed that Ralph Titterton, another stalwart of the Anderson community had passed away. Ralph had a long history of involvement with the club. His achievements were many in his years of dedication and passion to the shows he loved.
Ralph was born in Dartford, Kent in February 1955. One of his earliest recollections of a Gerry Anderson production was watching Fireball XL5 in the family home at Capel-le Ferne, a small village near Folkestone in Kent. Like many of his contemporaries, his childhood would have been full of memories of not just Fireball XL5 but those that followed, Stingray, Thunderbirds, Captain Scarlet And The Mysterons, UFO and many more. Barry Gray's music would also be a big influence as we shall see later.
In the real world he joined the nursing profession in 1976 and qualified in 1980 when he entered the specialties of critical care nursing at the William Harvey Hospital, Ashford Kent. A move to Bucklands Hospital in Dover saw him promoted to Charge Nurse in 1988. During his time there Ralph found himself in the thick of treating the wounded after the IRA bombing of the Royal Marines School of Music. By 2000 he had become senior ward manager at the William Harvey. After over 30 years in nursing he took early retirement in 2009, although he did return to the NHS for a few years before health issues took over.
Away from work Ralph devoted a huge amount of his life to the Anderson world. In the summer of 1979 he was lucky enough to meet Barry Gray for the first time when he interviewed him for Viking Radio (a hospital radio station based in Kent). I seem to recall that Ralph was involved along the line with the hospital radio and that he used the name Ralph Scott.
Early club records show that he attended Fanderson 81 where he assisted with the PA system. His membership number reveals that he joined at the same time as me, which would make it early spring in 1982. Ralph again assisted the convention committee for Fanderson 82 where as well as PA duties he wrote the guest profiles. His second meeting with Barry Gray was at this event, Ralph recalled that much enjoyment was spent by both over a drink or two at the bar!
He was keen to become more involved with the club and in 1985 was invited to a committee position to edit the club's new newsletter Fanderson News. The idea was to compliment SIG magazine as part of the membership package by not just filling in the gaps between issues but also to keep members more up to date on club news and events. Ralph was ably assisted for the first ten or so issues by Graham Bleathman who provided graphics and assistance.
Around this time, I too was thinking I would like to become more involved, I enjoyed making up quizzes and puzzles so sent Ralph wordsearches and crosswords. He was very good at looking and finding people to get involved so my first of several puzzles appeared in issue 2.
His thoughts and ideas would often come back to Barry Gray and he was delighted when he was able to produce the 1986 Membership item – the 7" vinyl EP, Music From The 21st Century by Barry Gray. It would become one of the most popular items given free to club members in its entire history. A second volume was inevitable and would follow a couple of years later. Both have been top of the list of requests for a re-issue ever since. Ralph was absolutely delighted when we repackaged both EPs into a single CD release for the 2021 membership package, as were many club members.
The late 1980s saw him oversee the introduction of a range of audio interviews mostly conducted at various Fanderson conventions. Ralph transferred these recordings on to high quality cassettes. Upcoming artist Jonathan Baxter was enlisted to provide much of the graphics for the sleeves. Over the next decade or so there would be 18 releases with an average 80 copies of each one sold. With a couple of other cassettes produced the total would easily have been in excess of 1,500 tapes and he recorded all of them – imagine the hours that took!
Ralph remained as editor of Fanderson News through its transformation from a few sheets of A4 paper into an improved stapled A5 magazine. This new format made its debut from issue 22 in the spring of 1990 and progressed from 16 pages to a more pre-FAB look of 32 pages over the next 9 issues.
Although I had been in correspondence with Ralph since the mid 80s we didn't actually meet until the Fanderson 90 convention in London, it was at that event he asked if I'd like to try writing for the magazine. He'd held an idea about script-to-screen articles, and I was happy to give it a go. The first – UFO A Question Of Priorities – appeared in Fanderson News 29, and several more would follow. In the same issue Ralph announced Chris Bentley as the club's new Chairman and reported the publication of 21st Century Fiction- No. 1 and of its availability on the club's sales list.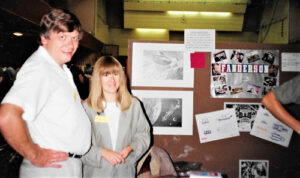 Fanderson News No. 30 appeared in the summer of 1991. Ralph and Chris made joint announcements of big changes coming up. Editorship would be taken on by Ian Fryer who would start Fanderson on a brand new journey with the next edition. Ralph's other main interests would see him concentrate not just on merchandise projects but also as main liaison with Gerry Anderson and ITC. As he said himself in his final editorial "With all this going on and a wonderful upturn in my personal life, something had to go". The 'upturn' being his blossoming partnership with Cathy Ford with whom he remained devoted to until his recent passing.
During 1992 Gerry Anderson went on a national tour of one man shows, and Ralph assisted with many aspects of the notes.
In 1994 with production of Space Precinct underway, Fanderson was given unprecedented access to the studios. Thus began regular weekly, sometimes bi-weekly trips by Ralph from Ashford to both Pinewood and Shepperton Studios, taking thousands of photographs and interviewing many of the actors and production staff enabling the club to run a number of features on the making of the series.
Further events in 1994 would have a big impact to both Ralph's and Cathy's lives in the most positive of ways. Cathy best summed up the beginning of this phase in her sleeve notes for Fanderson's first Barry Gray Soundtrack release – Original Television Soundtrack: Supercar and Fireball XL5:
"For many years it had been rumoured that tucked away somewhere were boxes and boxes of original Barry Gray recordings waiting to be rediscovered and in 1994, ten years after his death almost 600 ¼" and ½" open reel tapes appeared. Many in various states of decay. Restoration took over three years." Ralph collected all these tapes together with the added bonus of a Revox tape deck and Barry's Ondes Martenot.
Again, with so much going on, I added merchandising development to my sales role, leaving Ralph to concentrate on his new title of Public Relations Officer.
In 1997 he helped set up a deal that allowed Fanderson approval to release its first ever soundtrack using material from these 'lost' recordings. The Supercar and Fireball XL5 soundtrack was released in 1998 and would be the first of many soundtracks produced by the club. Although Ralph left the committee in 2000 he continued to be heavily involved in co-producing the soundtracks. He was also able to spend much more time working on the Barry Gray archive with Cathy.
Like many others Ralph's big wish was to see a concert dedicated to Gray's vast catalogue of TV and film music. Cathy had reminded him that 2008 was the "centenary of Barry Gray's birth and we should do a concert". I'll let Ralph continue… "I resisted the suggestion for some time… I thought it a pipedream… finally I thought, why not and mooted the idea to several friends". After 14 months of hard work it all came together and the concert took place at The Royal Festival Hall, Southbank Centre, London on 8th November 2008. The music performed by the Philharmonic Orchestra, conducted by Francois Evans, and the compere for the evening was actor Brian Blessed. It was an event not to be missed by the hundreds who attended.
Over the last twenty or so years Ralph and Cathy have been heavily involved in many projects as keepers of the Barry Gray Archive, not just with Fanderson but also Silva Screen Records , Supermarionation projects, Big Finish and much more.
Tim Mallet of Kindred Productions summed up Ralph recently with "I very much enjoyed collaborating with Ralph. His passion and belief in the soundtrack projects over the years was infectious".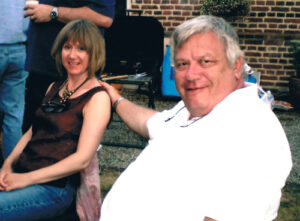 For my own part I have much to thank Ralph for. He stirred my interest in contributing to Fanderson through writing articles, volunteering my services and was instrumental in inviting me on board to the club committee. He encouraged many others to contribute their skills over a number of years to many projects. Like me, he enjoyed his food and more importantly a nice wee dram of the good stuff, so as I sign off I raise one of those 'wee drams' to Ralph Titterton as we all send our thoughts and sympathies to Cathy and to both their families
Stephen Brown