In a career in the entertainment industry which lasted for over forty years, Sylvia Anderson's achievements went far beyond that which became her most famous: supplying the voice for Lady Penelope for the Thunderbirds television episodes and feature films. At a time when opportunities for women in the film industry were limited, this included co-creating the series formats AP Films and Century 21 Productions produced from Fireball XL5 to Space:1999 (and possibly Supercar, the original authorship of which remained disputed), producing the two Thunderbirds movies and the first series of Space:1999, and co-producing the live action feature film Doppelgänger.
Sylvia Thomas was born in South London on 27th March 1927. Her father Sidney was a boxing promoter and gymnasium owner, which enabled the young Sylvia to grow up in the quasi-showbusiness atmosphere of boxing, meeting all the big fight stars of the day. The Thomas family fortunes very much depended on the success of the boxing shows Sidney put on, as Sylvia commented in her 2007 autobiography My FAB Years "As a promoter my father would sink everything he had into the shows – there were no half measures".
Sylvia's mother Beatrice was a trained court dressmaker who passed her love of design on to her daughter. The young Sylvia's artistic interests were aimed more at performing, sparked by her love of cinema. She took piano and singing lessons and performed in a children's dance troupe, as well as staging shows with family and friends in the back garden. The clearly intelligent young woman was encouraged instead to pursue academia and she studied Sociology and Political Science at the London School of Economics and spent a brief period in the US working in the social work field.
Returning to the UK, Sylvia set her sights on a career in the male-dominated film business, failing to find a position with any of the established production companies or distributors. Eventually she answered a newspaper advertisement placed by Polytechnic Films, a small production company based in Taplow, Buckinghamshire. Polytechnic made documentaries and commercials, directed by a former Sound Editor named Gerald Anderson. This earnest and hardworking young group of filmmakers proved desperately in need of Sylvia's organisational abilities and she soon became invaluable to the running of the company. So important was Sylvia that she was retained by the core group of technicians when they left to form Pentagon Films. Pentagon met the fate of many small production companies in the early days of commercial television in Britain and when a new company was formed, AP Films, Sylvia Thamm (as she was now called after her second marriage) joined the board of directors.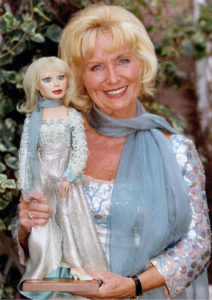 Despite the new opportunities afforded small production companies by the newly popular medium of television, times were hard for AP Films, which kept afloat between jobs by its staff working elsewhere. Sylvia took jobs as diverse as being a production assistant on ITCs The Adventures Of Robin Hood at Nettlefold Studios, Walton-on-Thames and working at the Mars factory on the Slough Trading Estate, not far from AP Films' home on Ipswich Road.
By the time APF moved to Ipswich Road from its original home at Islet Park in June 1959 the company's work in puppet films, originally taken out of sheer desperation when they were offered the chance to make The Adventures Of Twizzle two years earlier, looked like it was starting to pay dividends. Four Feather Falls, the company's first independent production, was a big success, though the future of the company was only secured by a last-minute sale of their Supercar format to Lew Grade's ITC company.
In the hothouse atmosphere of AP Films, in which everyone had to work long hours to meet tight deadlines, relationships formed and during the filming of Supercar's first series Sylvia and Gerry Anderson, attracted to each other since their first meeting, were married, her third marriage and his second. The couple's wedding night was interrupted by Gerry having to help out with shooting the sequence of Supercar emerging from the studio water tank seen in that series opening credits.
Sylvia was also getting more involved with writing, submitting children's stories to Collins publishers and writing stories for the annuals based on the early AP Films series. Gerry and Sylvia also wrote most of the scripts for the second series of Supercar while Sylvia directed the dialogue recording sessions as well as providing voices including that of regular character Jimmy Gibson. For future puppet series Sylvia took responsibility for creating the characters, giving Stingray the romantic triangle of Troy, Marina and Atlanta which lifted it above the level of simple undersea adventures. For Thunderbirds, the unexpected boosting of the series to fifty minute episodes meant the characters for the series she co-created with Gerry Anderson were more important than ever.
Providing both the voice (quite unlike her own speaking voice) and the visual template for Lady Penelope Creighton-Ward, Sylvia's experiences in America led her to the conclusion that most Americans thought Britons were either aristocrats or cockneys, so set about creating both in the form of Lady Penelope and Parker. Her creation of the Tracy family also provided a set of strong character types for the show's writers to devise plotlines around. Unbeknownst to Sylvia, the Lady Penelope puppet was designed to look like her and the two became linked in the public mind, a process encouraged by Sylvia's occasional habit of having dresses made for herself for public appearances to match those of Penelope.
With the huge success of Thunderbirds AP films suddenly found itself producing several projects at once, Sylvia co-producing the feature films Thunderbirds Are Go, Thunderbird 6 and Doppelgänger with Gerry. The pressures of their shared working and personal lives were starting to fracture the Anderson marriage and the couple separated briefly in late 1966 before reuniting and being more closely bonded when Sylvia became pregnant with a son, Gerry Jr.  By this time Thunderbirds was reaching its end and the Supermarionation shows began to decline in popularity. The production team's experience on Doppelgänger convinced Lew Grade that Century 21, as the company had by this point been renamed, had the ability to produce a live action television series.
Sylvia took less of an official production role on UFO, though cast and crew recall her being a constant presence and she also had a hand in the casting of actors. Her eye for fashion and design was at the fore, her screen credit for Century 21 Fashions reflecting her influence on the costumes and on Reg Hill and Keith Wilson's set design. Given a virtually free hand, Sylvia took a great deal of responsibility for the very stylised look given to cast members, especially the use of wigs, from the purple hair worn by the female Moonbase operatives to Ed Straker's blond mop. The show's attempt to anticipate the fashions of ten years in the future became a major selling point for the series.
After UFO Sylvia took more time to devote to motherhood and was suffering the after effects of a car accident, so decided to take a back seat for the next series, The Protectors. Century 21 had been closed down by Lew Grade on the completion of production on UFO and its successor company, Group Three, was named after its three directors – Gerry, Sylvia Anderson and Reg Hill. Sylvia retained ambitions as a writer and she penned the episode …With a Little Help from my Friends. The parlous state of Gerry and Sylvia's relationship had become clear to crew members during the production of UFO and it's interesting to note that Sylvia's script concerned itself with Harry Rule's ex-wife Laura and the kidnapping of the couple's son. This reiterated some of the key themes of UFO – the breakup of a marriage due to overwork and the loss of a child.
Sylvia returned with a bang for Space:1999, producing what was at that point the most expensive series ever made for television, despite her disapproval of the casting of series leads Martin Landau and Barbara Bain. While the series was an artistic success, Lew Grade's failure to sell the series to a US television network meant that the series' future looked bleak after one 24-episode series.  While the series itself returned, the Andersons' often stormy marriage did not, Gerry announcing that he wanted a divorce after the wrap party celebrating the end of production on the first series.
Professionally this was the end of an era as the Anderson's represented a formidable production team. Gerry Anderson provided sheer ambition and a nuts and bolts understanding of how filmmaking works while many people who knew the pair professionally reported that Sylvia had great visual flair and was better at maintaining smooth relationships with people. Together they had the knack of creating great series formats. As a couple they had reached an irrevocable end and could no longer work together.
By the time the Anderson's divorce was finalised in 1981 Sylvia had forged a new career in the entertainment industry. One of her first projects was to write a novel fictionalising some of her experiences as a woman in the male-dominated entertainment industry, changing the milieu to that of advertising for the sake of plausible deniability. The result, published by Methuen in August 1983, was titled Love and Hisses.
After a short period as Head of Production for a video company she began a 20-year stint as British Programming Representative for the cable television company HBO, working as a talent scout and setting up co-production deals. At the time HBO was a relatively small company, but with Sylvia's help it became the major force in world television we know today. After retiring from this role in the 1990s Sylvia remained active, acting as consultant to the 2004 Thunderbirds feature film. In 2015 she provided the voice of Lady Penelope's Great Aunt Sylvia for the Thunderbirds Are Go episode Designated Driver, written by David Baddiel, a series she publically expressed her enthusiasm for.
In October 2015 Sylvia appeared at her first Fanderson convention, The Future is Fantastic!, proving a witty, sharp and wildly popular guest with the packed audience. Sylvia Anderson died on 15th March 2016, survived by her children Dee and Gerry Jr. as well as four grandchildren and a great-granddaughter.