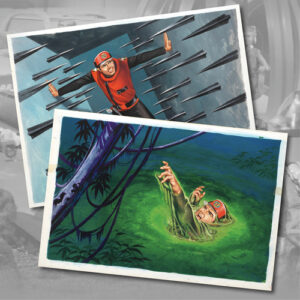 Two of Ron Embleton's original end title paintings for Captain Scarlet And The Mysterons are included in Bonhams' Rock, Pop & Film Online auction on 4th May 2022.
Both lots are around 54x38cm, painted in gouache and watercolour on paper, then mounted on board:
Lot 78 – Artwork board No.1 shows Scarlet struggling in swamp, reaching for a creeper with his left hand. This item includes with acetate overlay sheet marked to show the close-up crop marks for the credits sequence. Sold for £16,575 inc. premium (sold for £3,055 in 2002)
Lot 79 – Artwork Board No.7 depicts Captain Scarlet in a chamber bracing himself against advancing spiked walls. Sold for £21,675 inc. premium (sold for £3,995 in 2002)
Comic-strip artist Ron Embleton (1930-1988) is celebrated as a definitive portrayer of Captain Scarlet. In 1965 Embleton joined TV Century 21, where he illustrated 67 Stingray comic strips before producing work on Captain Scarlet. These paintings are part of a series of ten executed by Embleton, seen in the end title sequence at the end of each episode of Captain Scarlet And The Mysterons. Each scene shows Captain Scarlet seemingly in grave peril, with others depicting a giant cobra, sharks, and a tank. By 1968 Embleton had left the comic but continued to produce illustrations for Anderson merchandise.
Both items were previously sold in the TV Generation auction at Christie's, London in 2002.