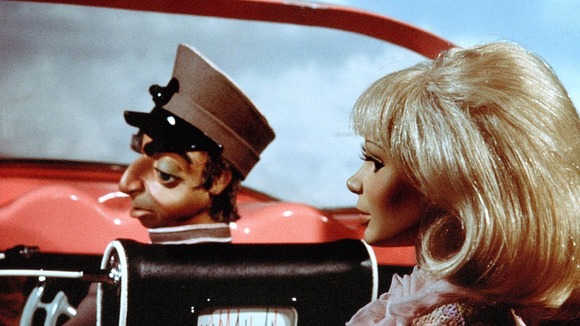 Credit: ITV News
Thunderbirds Are Go! Voice Cast Revealed
David Graham reprises the role Parker
Rosamund Pike to play Lady Penelope
Fans of Gerry Anderson's original Thunderbirds series got their dearest  wish today, as ITV Global announced that David Graham would reprise the role for which he is most fondly remembered. Almost 50 years have passed since his last appearance, but the voice artist will once again be playing the much-loved chauffeur and reformed crook, Aloysius Parker in ITV Global's Thunderbirds are Go! Rosamund Pike (The World's End, Gone Girl, Die Another Day) will play his aristocratic employer and International Rescue Agent, Lady Penelope.
Other cast members to be announced include:
Brains – Kayvan Novak (Fonejacker, Facejacker)
Alan and Scott Tracy – Rasmus Hardiker (Saxondale, Lead Balloon)
Virgil Tracy – David Menkin
Gordon and John Tracy – Thomas Brodie-Sangster (Love Actually,Game of Thrones)
Grandma Tracy – Sandra Dickinson (Amazing World of Gumball, The Hitchhiker's Guide to the Galaxy)
The Hood – Andres Williams (M.I. High, Foyle's War).
It appears that no announcement has yet been made as to the role of Jeff Tracy, the head of the Tracy family. However it has been confirmed that Thunderbirds Are Go! will also feature a range of brand new characters. Kayo – the Tracy brothers' friend and fellow island resident – will be played by Angel Coulby (Merlin, Dancing on the Edge) and Colonel Casey voiced by Adjoa Andoh (Invictus, Doctor Who).
Giles Ridge, Executive Producer of Thunderbirds Are Go! said: "Each member of the cast has brought a brilliantly fresh and unique approach to these wonderful characters. I can't think of anyone better than Rosamund to bring back to life the fabulous Lady Penelope and we are honoured that David Graham has joined the cast to revisit his role as Parker."
Rosamund Pike commented: "I'm very excited to bring Lady Penelope's wry wit and taste for adventure to a new generation. Exploring the scenes with David Graham has been an absolute delight. The scripts are very modern, very fresh and very funny. We're all eagerly anticipating our next stint in the recording studio!"
David Graham, playing Parker, added: "I am triple chuffed to be on board the new series of Thunderbirds Are Go! and reprising my role of dear old Parker with such a distinguished cast. My driving skills are in good nick and I am delighted to be behind the wheel again with M'Lady. Cheerio!"
The series features an innovative mix of CGI animation and live-action miniature sets and is due to debut in 2015. Thunderbirds Are Go! is produced by ITV Studios and New Zealand-based Pukeko Pictures, with world-famous Weta Workshop (Avatar, King Kong, The Lord of the Rings) designing the series and producing the miniatures. The 26 x 30' major new children's series will debut on ITV and UK's CITV Channel in 2015.
So, who would believe it? David Graham returns as Parker in Thunderbirds Are Go! What do you think about the casting decisions? Let us know on the Fanderson Facebook Group and Fanderson Forum.
Want to celebrate the exciting news with an episode of the original, 'classic' Thunderbirds? Check out our Thunderbirds episode guide and choose your viewing pleasure!