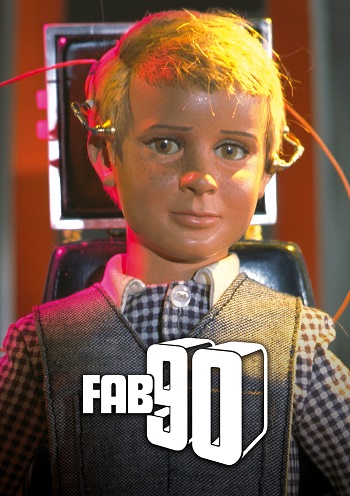 Who would have thought it…? The 90th issue of FAB magazine falling in the same month as the 50th anniversary of Joe 90's release. Of course, we had to celebrate it with an amazing cover and take some slight liberties with the club logo – just this once!
The stuff on the inside is pretty good too… In this issue we have:
THUNDERBIRD 3: DESIGNED FOR SPACE RESCUE
In the first of a new series we look at an International Rescue craft, starting with the sleek and gloriously retro Thunderbird 3.
GERRY ANDERSON INTERVIEW
Mark Braxton presents an unpublished interview with Gerry Anderson from 2005, where he discusses bringing back Spectrum for the 21st Century.
TIMELASH JOE 90 TRIAL AT SEA
Your views are in, let's see what you think of this Joe 90 adventure…
JOE 90
Ian Fryer explores the world which was the first to meet a 9-year-old secret agent named Joe, and John Wilkinson tells us when it originally happened.
APPRECIATION STATION
Jay Mullins takes on a taboo… Smoking!
END CREDITS
Ian Wheeler roots out a long lost, but never forgotten Dinky Toy.
THUNDERBIRD 6 PART TWO
Jonathan Baxter picks up where TV21 left off, with an exclusive photostory re-telling of the second Thunderbirds feature film, the delightful Thunderbird 6.
…plus all your familiar favorites – FAB News, FAB Noticeboard and FABMail! Copies should be winging their way to club members very shortly. Ok, so now you're thinking…
How do I get FAB magazine?
The answer's simple – join Fanderson! FAB magazine is available exclusively to Fanderson club members – we deliver three times a year, and we do our very best to make each issue a joy to read for every fan – regardless of your favourite series!