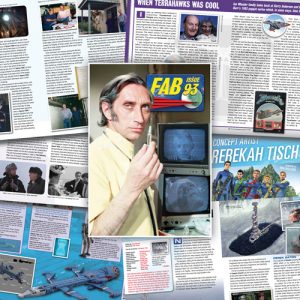 FAB 93 is now winging its way to all Fanderson members around the world – once again in compostable packaging!
Within its 60 pages FAB 93 includes:
an in-depth study of UFO's Dr Jackson, Vladek Sheybal
members' views of Captain Scarlet And The Mysterons Noose Of Ice, plus an exclusive Hotspot Tower cutaway illustration, in our regular Timelash feature
an interview with Thunderbirds Are Go's concept artist Rebekah Tisch
the story of the commentaries for A&E's DVD releases of Stingray, UFO and Space:1999
Thunderbirds Are Go season 3 episode guide, part 2
part five of our exclusive Thunderbird 6 photo-strip
news, FAB noticeboard, FAB Mail and more
We're also catching up from last time by mailing this year's membership gift, The Secret Service Close Up, to everyone due the book with FAB 92, as well as those due it now with FAB 93.
How to get FAB magazine? Join Fanderson!
FAB magazine is available exclusively to Fanderson club members – we deliver three times a year, and we do our very best to make each issue a joy to read for every fan – regardless of your favourite series!
The wrapper for the FAB 93 mailing is 100% compostable, as it's made from potato and maize starch. 
Don't throw it in your bin, but instead:
put it in your home composter

put it in with your garden waste, or

use it to line your food waste caddy
Once your FAB's arrived, let us know what think of the wrapper at fanderson.org.uk@outlook.com