FAB 94 is now winging its way to all Fanderson members around the world!
Included in this issue: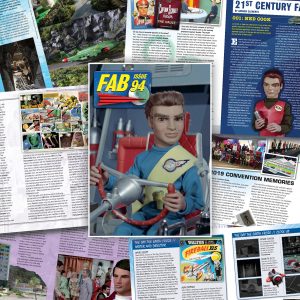 a look at UFO's life after the screen adventures – in comics
a fresh re-appraisal of Thunderbirds The Mighty Atom
members' views of Fireball XL5 The Day The Earth Froze, plus an exclusive cutaway illustration of Space City's launch trolley system, in our regular Timelash feature
an interview with Thunderbirds Are Go's model maker Steve Saunders
the final part of our exclusive Thunderbird 6 photo-strip
news, FAB noticeboard, FAB Review, FAB Mail and more
And, in this mailing everyone (except trial members joining for our 2019 Supercelebration convention) will also be sent a revised version of The Secret Service Close Up book.
How to get FAB magazine? Join Fanderson!
FAB magazine is available exclusively to Fanderson club members – we publish three times a year, and we do our very best to make each issue a joy to read for every fan – regardless of your favourite series!
Once again, we're mailing FAB magazine in a 100% compostable bag, made from potato and maize starch. 
Don't throw it in your bin, but instead:
put it in your home composter

put it in with your garden waste, or

use it to line your food waste caddy