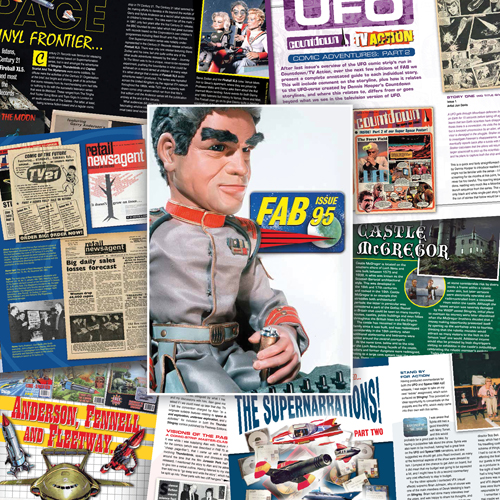 We're delighted to report that FAB 95 was mailed to all members around the world in May.
Included in this issue:
a look at the only Fireball XL5 mini album – Journey To The Moon
an interview with Century 21 Merchandising supremo Keith Shackleton
members share their views of Stingray Loch Ness Monster in our regular Timelash feature, complete with exclusive Graham Bleathman cutaway of Castle McGregor
lifting the lid on the Visions Of The Past strip story, published in Fleetway's The New Thunderbirds comic
the second part of Jeff Smart's look at producing commentaries for A&E's DVD releases, looking at Supercar, Fireball XL5, Stingray and Joe 90
continuing our look at UFO's adventures in comic strip form
the first part of our exclusive Thunderbird Are Go photo-strip
news, FAB noticeboard, FAB Review, FAB Mail and more
Hundreds of members (those who have renewed their membership since FAB 94) will also receive our brand-new Century 21 Complete Puppet Catalogue with FAB 95 – our membership gift for 2020. Don't worry if your membership expires later this year – we'll also mail this to renewing members with FAB 96 and 97 over the coming months.
How to get FAB magazine? Join Fanderson!
FAB magazine is available exclusively to Fanderson club members – we publish three times a year, and we do our very best to make each issue a joy to read for every fan – regardless of your favourite series!
Once again, we're mailing FAB magazine in a 100% compostable bag, made from potato and maize starch. 
Don't throw it in your bin, but check with your local recycling and either:
put it in your home composter

put it in with your garden waste, or

use it to line your food waste caddy