Fanderson staged its first convention in two years at the Holiday Inn Maidenhead over the weekend of 29th September – 1st October. Special Assignment was designed to mark the 50th anniversary of the Andersons' iconic Captain Scarlet and the Mysterons, but as an event it turned out to be so much more than a homage to a single show.
A Golden Shot at a golden anniversary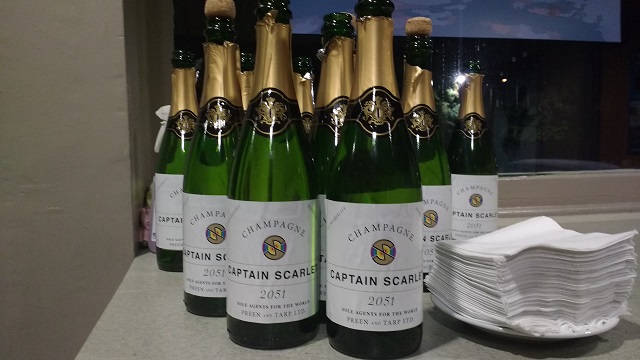 Special Assignment started with a bang on Friday night, as guests assembled for a bucks fizz reception at 8pm, with bottles featuring specially designed Captain Scarlet commemorative labels. After a toast to the series, fans settled down to a screening of the first episode, The Mysterons, first shown on ATV 50 years ago to the day, in the 'Cloudbase Theatre' (a.k.a the main features room).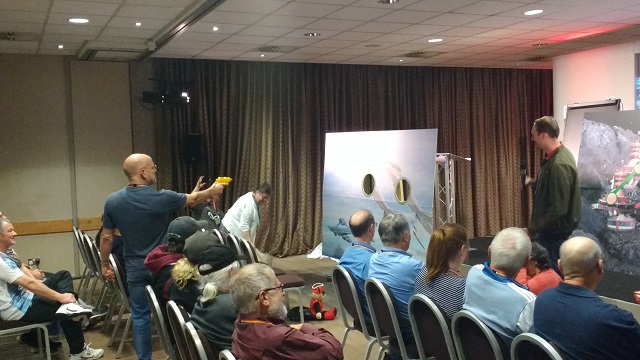 Fans were then treated to a surprise re-creation of the Captain Scarlet-themed episode of The Golden Shot game show that aired back in 1968, complete with faithful replicas of the original targets. The competition was enthusiastically compered by Fanderson co-editor/designer Mike Jones, and prizes were on offer to anyone who wanted to prove they were a deadeye marksman with a nerf gun.
Costumes and quizzes
The evening entertainment continued on Saturday night, with the main features room reset for the traditional Fanderson hot fork buffet. Some creative souls really dressed for the occasion, and Captain Scarlet, Colonel White, Lieutenant Ellis, Tin-Tin, Lady Penelope and an Alien could be seen sitting down to dinner among the other delegates.
After the meal, Nick Williams ran a cult TV quiz that featured a round on regional TV network logos and tested powers of observation as well as trivia knowledge. Perhaps most importantly, the quiz was less fiendishly difficult than the one held at The Future Is Fantastic! in 2015. Yet another sign that the club listens to feedback! After the quiz, some fans retired to the bar into the small hours while others sloped off to bed.
The guests – old and new faces
The convention was blessed with a wide range of guests who generously have up their free time to talk about their work for the Andersons.
Liz Morgan, who voiced several of the Angels, provided a fitting link to the original Captain Scarlet series. She was joined on Saturday by the unmissable Thunderbirds duo of David Graham and Shane Rimmer to discuss the challenges of emoting with puppets. Later, in a meeting of 'old' and 'new' Captain Scarlet voice artists, she was teamed up with Wayne Forrester and the hugely popular Thunderbirds voice artist Matt Zimmerman.
The Captain Scarlet link continued in another three-way interview with Dominic Lavery, Mark Woollard and once again Wayne Forrester, who was an 11th hour guest, discussing the troubled production of New Captain Scarlet.
Special Assignment featured a number of first-ever appearances at a Fanderson convention. SHADO women Penny Spencer and Georgina Moon were interviewed about their time on UFO, while Richard Culley provided a fascinating insight into the merchandising arm of Century 21. Perhaps the most entertaining guest appearance was stunt double and co-ordinator Paul Weston, who worked not only on Space:1999 and The Protectors, but a long list of films including the Bond franchise.
Taking a brief break from book illustrations and signings in the foyer, Mike Noble and Graham Bleathman teamed up to talk about their work illustrating TV21 and the 1990s Fleetway Thunderbirds Comic, while Mary Turner and Judy Preece talked about their experiences with puppets on the Supermarionation series and Terrahawks.
The focus returned to Terrahawks later in the weekend when Terry Adlam, John Lee and Steve Begg were reunited to discuss their work on the series and beyond.
Model maker Martin Bower gave two fascinating slide presentations over the weekend, revealing some of the secrets of his work on Space:1999, the Fleetway comics and other projects.
Meanwhile, Peter Hitchcock had traveled all the way from Canada to attend and gave the fans great value with two sessions. On Saturday he delivered a special effects presentation that focused on specialist Supermarionation techniques such as electronic lip-syncing, then on Sunday he teamed up with Brian Johnson to talk more widely about their work at AP Films. After that, Alan Shubrook and Mike Trim then picked up the thread with a double-header interview that covered their work on the later Century 21 era.
The return of vinyl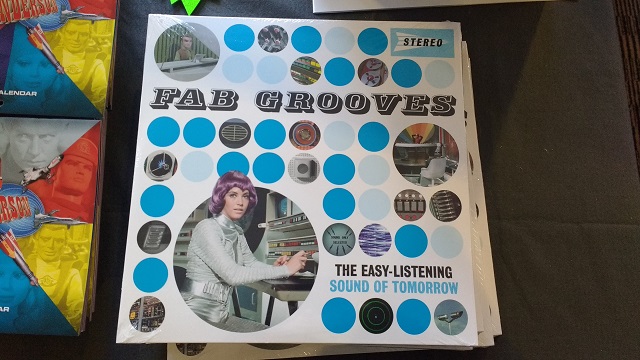 Beyond the guest interviews and evening entertainment, Special Assignment will be remembered as the premiere for a wealth of fabulous Anderson merchandise celebrating Scarlet's golden anniversary. Author and ex-club chairman Chris Bentley and publisher Marcus Hearn were present in 'Harman's Department Store' traders' room to greet fans and sign copies of a limited edition black version of Captain Scarlet: The Vault. Robert Harrop also chose an alternative colour to mark the anniversary, releasing a Captain Ochre figurine, along with a Martian Pete from the Thunderbirds episode Martian Invasion. Big Finish were selling their comprehensive boxed set of Century 21 Captain Scarlet mini albums, as well as a new audio adaptation of the John Theydon novel, Captain Scarlet And The Mysterons. Big Chief were promoting their lavish new Captain Scarlet figurine, while Graham Bleathman was signing copies of his long-awaited Captain Scarlet Haynes Manual, written by Sam Denham.
Meanwhile the club surprised fans with no less than 7 new items on sale, but there was one that stood out among all the others – FAB Grooves, a sumptuous double gate-fold LP of Barry Gray 'easy listening' tunes, complete with a CD version and full colour booklet. Another closely guarded secret was the release of a 4-disc Joe 90 soundtrack CD, extending the club's catalogue of Barry Gray music. The club also released a 2018 calendar, Captain Scarlet anniversary and Joe 90 stickers, and complimentary convention books and Spectrum Shade badge.
Music, films, artwork and workshops
Upstairs on the first floor, fans could sample the LP on a turntable in 'Ma Doughty's Listening Lounge', or request their own choice of music from Fanderson's soundtracks. Fans could also watch an episode of their favourite series in the Goggleheimer Productions Viewing Theatre, where all-day screenings with a definite Scarlet-theme were the order of the day.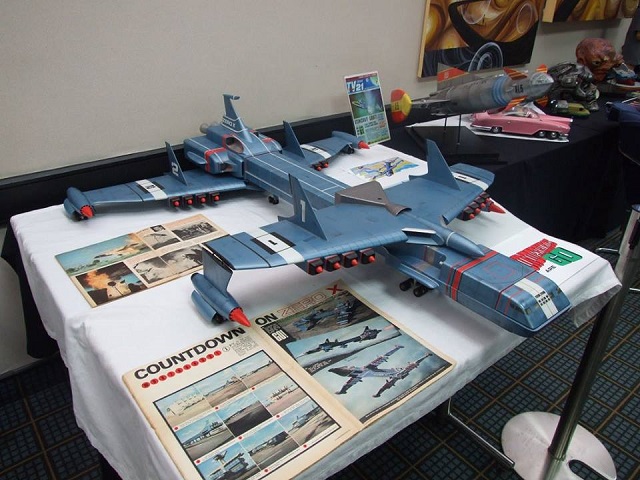 Fanderson events are renowned for their model displays, and Special Assignment was no exception, with a wide variety of puppets and models on show, including original Captain Black and Sam Loover puppets. A big thank you to Chris King and all the other model makers for making the 'Expo 2068' room such a visual feast for delegates and the local press!
The club also decided to provide a designated room for professional Anderson artwork, after taking on feedback from previous events. Artists including Graham Bleathman, Lynn Simpson, Chris Thompson, Mike Trim, Jonathan Baxter and Mike Noble exhibited and gave talks about their amazing work in the 'Braquasso Gallery'.
For those with a slightly more niche interest, a number of workshops were held throughout the weekend in 'Brains' Workshop'. Sculptor Matt Buckley from Robert Harrop took a break from the traders' room to talk about the process of creating figurines, while members of the Puppet Guild including Mary Turner held a session on how to make puppets walk realistically.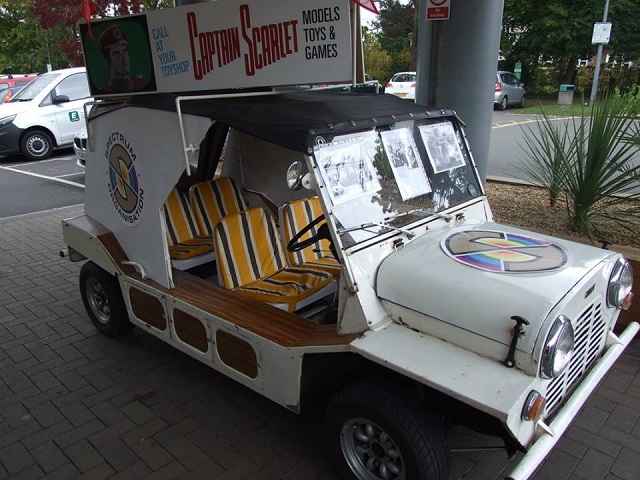 A beautifully restored Mini Moke as used in the promotion of the original Captain Scarlet in the 1960s was on display throughout the weekend outside the hotel main entrance, courtesy of Sam Denham. A camera crew also visited the event on Sunday afternoon to interview fans and capture the atmosphere.
Thank you
On top of all that, delegates raised nearly £2,000 for the convention charities – Orchid and the Cinema And Television Benevolent Fund.
So there you have it. Thank you to all the guests, traders, artists, model makers, hotel staff, suppliers, and everyone else who helped make this such a special assignment. Most importantly, thank you to all the club members – both near and far – for your magnificent support for this event.
By the time it came to Nick Williams' closing address there was a real sense that Special Assignment would be remembered as one of the best Fanderson conventions in many years.
So, roll on the next one! S.I.G. Over and out.