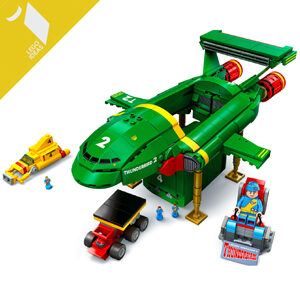 UPDATE 22nd March 2023: Read all about Andrew Clark and his creation in this Lego Ideas interview.
---
Andrew Clark's Thunderbird 2 Lego Ideas project is included in the third review of 2022, with the result due this summer.
Thunderbird 2 gained the magic 10,000 supporters in October and so will go forward to be considered as an official Lego set, along with 35 other projects!
The Lego team carefully assesses each project to ensure it meets their stringent build and playability standards, doesn't clash with any official sets in development, as well as considering any licensing requirements. The licensing team at ITV has in the past been extremely positive and excited at the prospect of such a tie-in with Lego, though as the company becomes more commercially-focussed the fees being asked have put some potential licensees off.
After 57 years, Thunderbirds remains incredibly popular worldwide, with high concentrations of Fanderson members particularly in the UK, Japan and Australia, so we can only be hopeful that Lego and ITV can work together to make this happen!
---