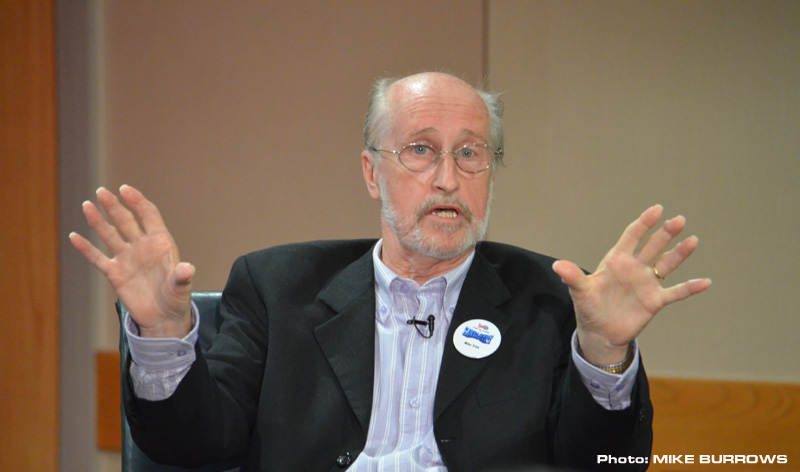 We are thrilled to announce that Mike Trim will be attending Special Assignment in October.
A popular figure with fans at conventions, Mike began working for Gerry and Sylvia Anderson as a modelmaker and designer in the final days of Stingray. He then went on to work on Thunderbirds, Captain Scarlet and the Mysterons, Joe 90, The Secret Service, and UFO, as well as the Thunderbirds and Doppelganger  feature films.
Having worked closely with Derek Meddings for many years, Mike will be able to offer an invaluable insight into how the Century 21 series were produced. He joins what is already a great list of special guests for what will be Fanderson's first full-weekend convention in five years:
Peter Hitchcock – AP Films projectionist, lip-sync operator and 'puppet hand' in his first convention appearance
Shane and Sheila Rimmer – Thunderbirds's Scott Tracy and Captain Scarlet writer
David Graham – the man of a thousand voices, including Parker from Thunderbirds
Mary Turner – sculptor and puppeteer
Graham Bleathman – prolific cut-away artist
Mike Noble – TV Century 21 artist
Mike Trim – modelmaker and designer
Liz Morgan – the voice of Destiny and Rhapsody Angels in Captain Scarlet
…and there will be plenty more announcements coming soon!
SIGN UP TODAY!
Tickets to Special Assignment start at just £55 per person for one day, or £90 for the whole weekend. We've managed to keep the ticket price the same as The Future Is Fantastic! convention in 2015 because we're a fan club and no one is taking a salary. Note that Saturday-only or Sunday-only tickets do not include the Saturday evening meal or any other refreshments that are included in the weekend ticket. Ticket prices will, however, rise in spring 2017.