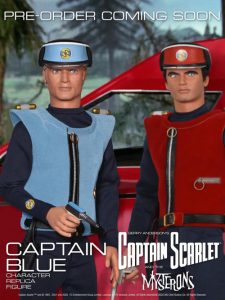 Big Chief Studios was founded by Mark Andrews and Tony Leetham in 2011 to manufacture high-end figures and collectables, and have worked with Fanderson club members to ensure their Thunderbirds and Captain Scarlet characters are as accurate as possible.
Figures currently available for pre-order include:
And coming soon, to accompany their previous Captain Scarlet figure will be Adam Svenson himself – Captain Blue!
Big Chief's full range includes characters from Star Wars, Doctor Who, Lord Of The Rings and more. Check out the whole range here.