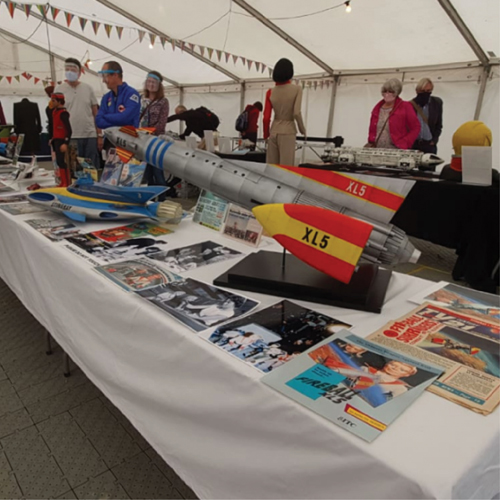 Model-maker extraordinaire and Fanderson member David Sisson is putting together another fantastic display of models, puppets and costumes from Gerry and Sylvia Anderson's productions for Sci-fi Saturday at Cromford Mills, Derby, on Saturday 14th August 2021.
Last year's display was extremely popular, even with social distancing restrictions in place, and this year promises to be even better! As well as Anderson exhibits there will be things to interest Doctor Who and Blake's 7 fans too.
Don't forget to say "hello" to Fanderson's own Stephen Brown, Jackie Dear, Ian Fryer and Lynn Simpson whilst you're there.
This year's display is planned to include:
David Sisson's collection of model vehicles, puppets, and props from Thunderbirds, Captain Scarlet And The Mysterons, Terrahawks and Space Precinct, both custom-made reproductions and studio originals. Mamas Pitsillis and Linda Ianson (Studio 2 Models) will be operating radio-controlled replica vehicles from UFO and Stingray. Bob and Sue Bailey will be bringing along a display from Fireball XL5 including the star of the show, Steve Zodiac, which is the oldest known surviving complete hero puppet!
And if you need some relief from all that Anderson wonderfulness, Simon Rhodes will be displaying his collection of original costumes from Star Trek Voyager. Richard Ashton will be displaying custom-made model kits and scratch built models from films, such as Star Wars, Firefly, and Back To The Future. Gary Holland collection of original costumes from Blake's 7 includes iconic clothing designs worn by the series' lead stars. Scott Goodman will appear in full costume during the day as Jon Pertwee's Third Doctor, bringing with him his arch-nemesis a Dalek, whilst James Burgess will be displaying some of his amazing sculptures and recreations from the worlds of Doctor Who.
Cromford Mills is a free-to-enter, UNESCO World Heritage Site and is a complete day out with family and friends. It's owned and managed by The Arkwright Society – an educational charity devoted to the rescue of the industrial heritage buildings and helping to preserve the precious built and natural landscape in and around Cromford.