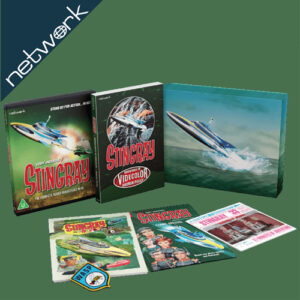 Network have finally confirmed what we've been hoping for (and they've been hinting at) for ages. Gerry and Sylvia Anderson's groundbreaking underwater series Stingray is being remastered in high definition for a release on Blu-ray Disc in 2022!
The series will be offered in two limited edition boxsets. For £80, the Deluxe edition includes:
Exclusive, limited edition deluxe packaging
Brand-new Stingray comic
Brand-new Stingray book by archive television historian Andrew Pixley
Gerry Anderson commentaries on the pilot and Stand By For Action
The Reunion Party – HD remaster of the Japanese Stingray presentation footage
Give-a-Show projector image gallery
Sylvia Anderson interview part 2
Walton home movies
Image gallery (5 mins)
Stingray WASP pilot license and badge
Brand-new mini adventure CD
Stingray ephemera wallet
Lincoln toy advert
Lyons Maid advert
Des O'Connor Show sketch
Ad bumpers
French end credits
Century 21 Tech Talk: Stingray
Stingray TV21 audio adventures
Remastered and reconstructed Super Space Theater films The Incredible Voyage Of Stingray and Invaders From The Deep (to be shipped separately in summer 2022)
For an extra £30, the Super-Deluxe edition adds:
Super Deluxe edition box
Luxury hardcover memorabilia album
Replica Stingray pressbook
Two bespoke art prints
Stingray aqua blue 7″ vinyl EP
Both sets are expected to be released in April 2022, and can be pre-ordered now at Network.
In the meantime, to whet your appetite A Christmas To Remember is available to stream, free of charge, until 18:00 on Sunday 26th December.