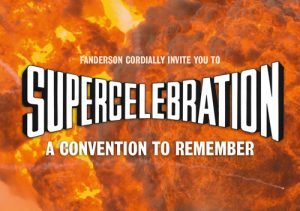 Since registrations to Supercelebration closed last week, we've been inundated with enquiries as to whether club members can turn up and pay on the door.
We're delighted to confirm that we have a limited number of spaces available, and that more space is available on Sunday than Saturday. So, it will be possible for members to turn up and pay on the door, but please remember that space is limited, so turn up as early as possible to not only secure a space, but to experience as much of the convention as possible.
If you'd like to be sure of getting in, you can 'reserve' an on-the-door place right now, buy a Supporting package, and upgrade to a full day pass on arrival. Note, however, that even Supporting registrations will close this Wednesday, 18th September.
Remember, you must have set up your Fanderson account in order to buy anything from us.