Anderson fans flocked to the Holiday Inn Maidenhead last weekend to mark the 50th anniversary of The Secret Service, Doppelgänger and UFO and to raise money for charity The Silver Line, a free 24-hour helpline for older people.
Incredibly, a combination of events over the weekend and the sheer generosity of fans meant that over £8,000 was raised in total.
A great turn out
With around 250 fans coming from all over the world to be at the convention, Stuart Drummond and John Wilkinson had their work cut out on the registrations desk when the convention officially opened on Friday afternoon.
Guests
There was a huge range of guests throughout the weekend, covering all aspects of the Anderson productions and eras, appearing on the main stage and signing autographs.
There were no less than three UFO-themed two-hander interviews over the weekend. Penny Spencer partnered fellow SHADO operative Georgina Moon to talk about their experiences of acting and living in the 1960s, while Gary Raymond and Christian Roberts reminisced about their guest appearances in The Man Who Came Back and The Long Sleep respectively. Finally Susan Jameson and Michael Jayston talked about their memories of acting together as brother and sister on The Sound Of Silence.
Andrew Skilleter, Graham Bleathman and Steve Kyte spoke about their work on Alan Fennell's Fleetway comics in the 1990s, as well as their memories of the original TV21. Mike Trim presented a fascinating slideshow covering his work as an illustrator after Century 21, and also teamed up with Dominic Lavery to talk about their experiences of designing for the Andersons 35 years apart.
The largest interview of the weekend was a Terrahawks mega panel consisting of Kaye Main, Terry Adlam, John Lee, Steve Begg, Judy Preece, Peter Tilbe and Gary Tomkins. Peter Hitchcock shared his memories of working on the Supermarionation heydays at the Slough Trading Estate, while other interviews included Steve Begg, Brian Johnson and Mark Woollard, and Dee Anderson joining puppeteers Mary Turner and Judy Preece.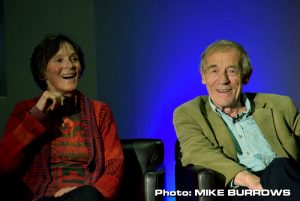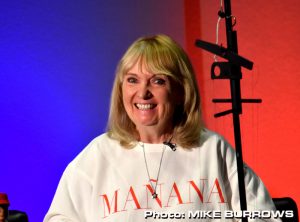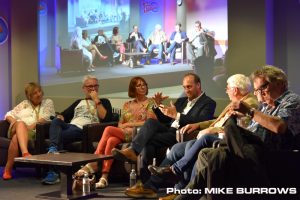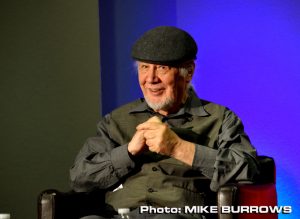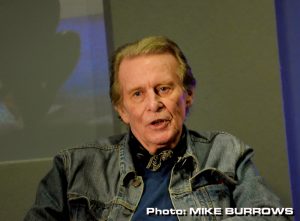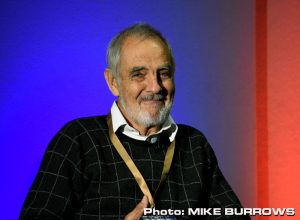 Special screenings
Among the guest interviews, there were two special screenings of recorded interviews with Anderson grandees who are now sadly lost to us. Producer Jeff Smart provided a never-before-released audio commentary by the recently departed Shane Rimmer for Zeke's Blues, a The Protectors episode that he both wrote and starred in. To further mark The Secret Service anniversary, fans were also treated to a filmed interview with Stanley Unwin from the Fanderson Archives.
Model room and art room
Away from the Features Room, there was a huge range of other things for fans to get involved in. The Art Room featured an incredible amount of original Anderson artwork from Frank Bellamy, Mike Noble, Ron Embleton, Frank Hampson, Graham Bleathman (who also organised the display) and many others.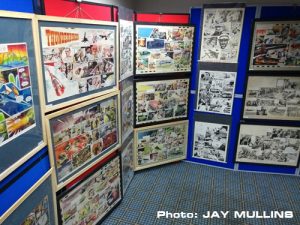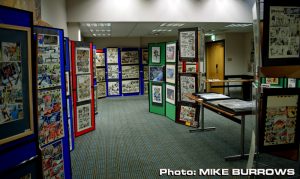 The Model Room run by Chris King had a constantly shifting rota of original and reproduction puppets, vehicles from across the series, original props and costumes, and even a model of the AP Films studio building. The exhibition also extended to downstairs, where Ben Westenend's impressive 6-metre studio scale replica of the Thunderbird 2 hanger, runway and launchpad was on display.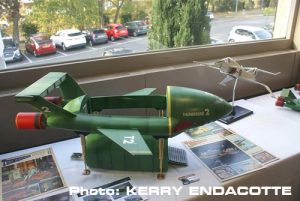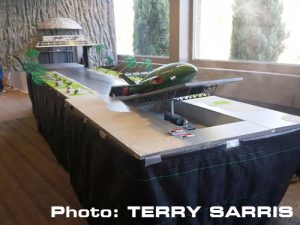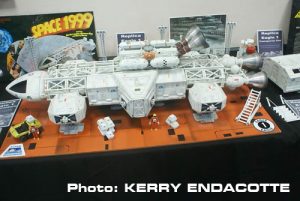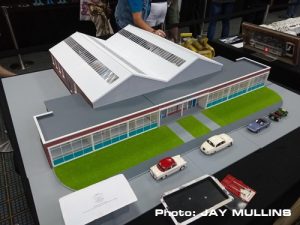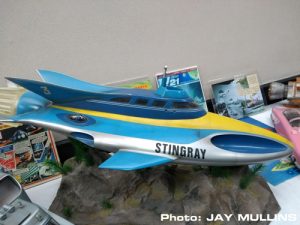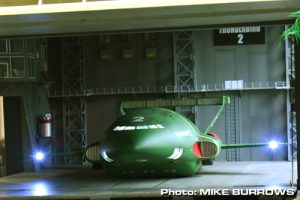 There was also a Music Room, where attendees could relax and complete a colouring-in sheet and potentially win a prize, and an Episodes Room holding all-day screenings.
Workshops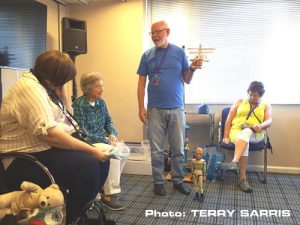 The ever popular programme of Workshops, run by Katie Bleathman, included subjects as diverse as the digital music restoration for Fanderson's soundtrack CDs, Anderson artwork and a chance to try your hand at puppetry. This year also saw a slot in which fans could ask Fanderson committee members Lynn Simpson and Nick Williams questions about the running of the club.
Fanderson sales
Run by Stephen Brown and Lynn Simpson, Fanderson Sales always pulls some exclusive goodies out of the bag at a convention, and this year was no exception. To celebrate the 50th anniversary of The Secret Service, two commemorative tea towels went on sale. In terms of new books,  Super Space Theatre examined the compilation releases of the Anderson series and included a set of 13 artwork prints. The latest edition of the much-loved 'FAB Book of…' was also on sale, looking into the world of Anderson bubble gum cards. And there was exclusive news of a new upcoming soundtrack CD: an expanded re-issue of UFO!
Convention book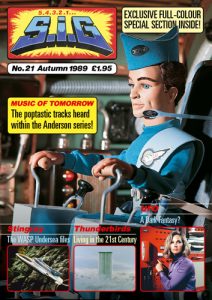 Designed and edited by Mike Jones and Dave Nightingale, the convention book was styled as the 'next issue' of the original SIG, the ground-breaking commercial Anderson magazine of the early 1980s that ran for 20 issues and paved the way for modern fan publications such as FAB. It was a beautiful touch of nostalgia for all older fans, some of whom couldn't believe it was a brand new issue!
Evening entertainment
Friday evening began with a glass of bubbly and a screening of the final episode of The Secret Service in the Features Room. This was followed by 'Lord Parker's Bingo', hilariously compered by Mike Jones dressed as the eponymous butler from Lord Parker's 'Oliday.
Fast forward to Saturday night, and fans were treated to a '70s and '80s themed disco that ran until midnight.  It gave some people the chance to wear their very best Anderson-themed fancy dress and win a prize…
Raffles and auctions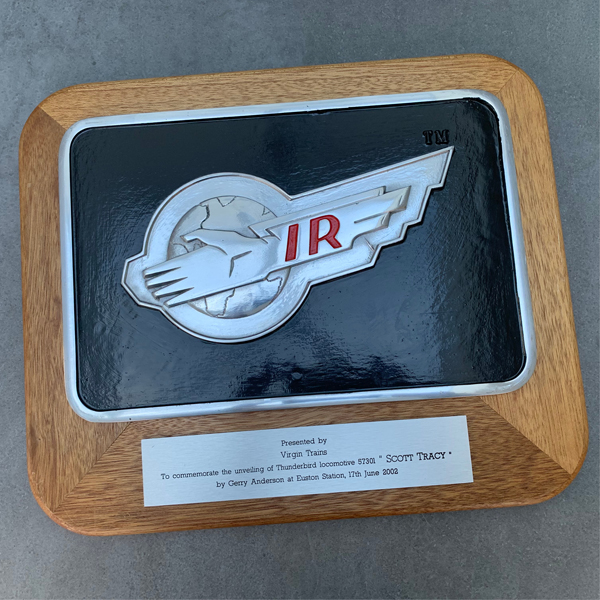 A number of raffles and auctions (both live and 'blind') were held over the weekend, with all proceeds going to The Silver Line. Some highly desirable Anderson memorabilia became the subject of intense bidding wars, with the highest winning bid for an International Rescue plaque, produced by Virgin Trains to commemorate their unveiling of the Scott Tracy engine by Gerry Anderson in 2002. It sold for an eye-watering £1,500!
Thank you to everyone who contributed and attended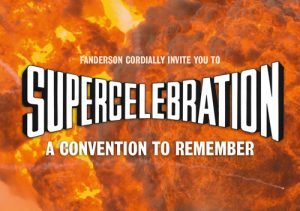 In an emotional closing ceremony, Fanderson chairman Nick Williams thanked everyone involved (below).
As previously announced, this was the last full weekend Fanderson convention (though we'll continue with smaller events, and hope to support others staging events), and things certainly went out with a bang! It was a true Supercelebration that will live long in the memory.
Thank you all very much for, certainly for me, a very enjoyable weekend. Hard work, but it's been a lot of fun. First of all, a little bit of prize giving.
After all the work I slaved over the treasure hunt, only one team took part. And guess what – they won! Unfortunately, some of them had to leave early so they have already gone, but they do deserve a name-check as they bothered to do it(!) and they are Paul Mayne, Richard and Fiona Yelland, Steven Cross, Chris Dean and Huw Davies. And their team name was Three Hours, My Arse! which is awfully rude.
We also had a colouring competition up in the Music Room. The colouring sheets were sent out with FAB a few issues ago in the hope that people would colour them in and post them on Facebook – and that died a death, didn't work at all. So, we had some sheets left over and we thought 'Well, we'll do the Music Room and here's a little something to do'. And I was really pleased – we had 11 entries and we had the entries judged by Andrew Skilleter and Steve Kyte. I mean, it was so embarrassing to artists to say "Can you judge colouring in?" but they seemed the most appropriate people to ask. So, they judged and we actually have two winners, because they couldn't decide who was the overall winner. So, for another Imai model kit box print – this one Alan and Thunderbird 3 – could Kim Lew Lee please come to the stage. Kim's work was highly commended by the judges, and you might recognise her at Peter Hitchcock's partner. Our second winner gets a print of Thunderbird 2 with Scott Tracy, is Guy Jellicoe in the room? (silence) OK, we'll get that to Guy.
And last but not least, the fancy dress competition. I was stunned by just how many people made the effort to come in fancy dress last night. We had six spot prizes that were given out on the night, but the committee members I spoke to said there was one costume that was absolutely outstanding, and that is Claudine, our Moon Girl.
So, I have a long list of people to thank, because this does not happen on its own, and it certainly isn't just me. So, please bear with me and show your appreciation for all these people.
First of all, the people who, though the weekend, have sat here and interrogated our guests and made feel at home those who were perhaps feeling a bit nervous. So, please put your hands together for Kirsty Brown, Sam Denham, Ian Fryer and Mike Jones.
For some of our special little pieces in the programme I'd like you to thank Giles Ridge and Christine Lima at ITV Studios Global Entertainment, Jeff Smart for that exclusive bit of Doppelgänger and the Zeke's Blues commentary, and Tim Mallett and Glenn Pearce of Kindred Productions for the Stanley Unwin footage.
As I think I said yesterday, our opening title sequence was a re-hash of something we'd done in 1991, but it was actually quite a time-consuming re-hash. So, for the pictures, the editing and the work required in doing that, thanks to Tim Mallett and Glenn Pearce and for the music, Tim Newnham and Paul Westerham.
For getting you to spend even more money than Stephen Brown would take out of your pockets, in the Traders' Room – Steve Cambden, Roman Krause and Andrew Staton.
I think everyone enjoyed the disco – apart from John Wilkinson who was moaning that there wasn't enough Kylie, and then when Kylie came on it was 'the wrong Kylie'! Anyway, thank you to Phil Freeman for the disco last night. Thank you also to Jennie Jones, Dilip Damodaran and all the team here at the hotel.
You've heard the term 'herding cats'? We've had quite a few cats here this weekend but actually, they're all so well behaved and they love spending time with you. But three people who have worked tirelessly all weekend, herding those cats – Mel Rowlands, Jackie Dear and Lynn Simpson.
And, just as a name check of all those guests we've had here this weekend – Terry Adlam, Dee Anderson, Steve Begg, Graham Bleathman, Peter Hitchcock, Susan Jameson, Michael Jayston, Brian Johnson, Steve Kyte, Dominic Lavery, John Lee, Kaye Main, Georgina Moon, Judy Preece, Gary Raymond, Christian Roberts, Andrew Skilleter, Penny Spencer, Peter Tilbe, Gary Tomkins, Mike Trim, Mary Turner and Mark Woollard. A big round of applause for all our guests.
A couple of years ago we decided to split the exhibition because artwork was becoming so popular that people wanted to see more and more, and this year there was even more artwork. So, thanks to Jonathan Baxter, Stephen Brown, Sam Denham, Lee Elliott, Andrew Kenny, Neil Kenny, Ronald Kroon, Steve Kyte, David Power, Lynn Simpson, Andrew Skilleter, Christian Tarpey, Mike Trim and Graham's dad for his painting of Stourhead (Lady Penelope's mansion). And, of course, Graham Bleathman for organising it all.
And, behind that, the model and puppet exhibition – Richard Ashton, Toby Chamberlain, Annette Davies, Barry Davies, Sam Denham, Graham Farley, Pete Hutton, Linda Ianson, Richard Lewis, Mamas Pitsillis, Chris Potter, David Rhodes, David Sisson, Peter Thornley, Ben Westenend, Robert Zijderveld, And, of course, Chris King for organising it all.
The workshops this weekend have been more popular than, certainly, any convention I've been involved in, so thanks to Jonathan Baxter, Steve Begg, Graham Bleathman, Ros Connors, Peter Hitchcock, Brian Johnson, Ronald Kroon, Steve Kyte, Dominic Lavery, Tim Mallett, Lynn Simpson, Andrew Skilleter, Ian Stewart, Chris Thompson, Glo Thorogood, Martin Townley, Mike Trim, Mary Turner, Mark Woollard and all of you who took part in those workshops and made them worthwhile. And, of course, Katie Bleathman for organising the Workshops programme.
(Interrupted by Ian Fryer) A huge round of applause for the chairman of this convention, without whom we wouldn't have a convention, and probably wouldn't have a club. So, please, give it up for Nick.
Thank you all very much. It is appreciated. I have to say now that we've had some shit times over the last few years, and many of you will know why, but that reaction, and your friendship, and the amount of thanks we've had over the weekend make it all worthwhile. So, seriously, thank you so much.
Managing all our AV, not just what you've seen here on screen but miccing up the guests, getting the guests on stage and off stage, and moving furniture, and looking after the rooms upstairs as well is our fantastic technical crew – Troy Hess, Damon Meadowcroft, Malcolm Saunders, Tim Mallett and Glenn Pearce.
As I said this morning, I only really had a chance to pick up my copy of SiG and what stood out for me was the quality of that magazine and, actually, all of our print products. And that is down to someone called Tony Brooks at Hartgraph who print just about everything for us. So often, particularly on the old Forum, people would go "Why do I pay this much for my membership? How much are you paying for this? We can do it cheaper". Yeah, but can you get the quality? So far, none of the people we've tested can get the quality that you guys deserve, so please give your thanks to Tony Brooks and the team at Hartgraph.
Back to that SiG and there are a lot of people who have contributed to it but I particularly want to thank – Graham Bleathman, Steve Kyte, Mike Jones but, most importantly, a guy who was planning to be here this weekend. The man who started it all. The man who, really, if he hadn't started SiG this wouldn't happen – Mr David Nightingale.
On the Registrations desk, looking after your queries taking your money for raffle tickets, auctions bids, running around doing so many things with people firing at them in all directions. It's not at all easy, plus all the work that's happened in advance for registrations – Stuart Drummond and John Wilkinson.
Then Fanderson Sales, and you all know Stephen Brown, Lee Elliott and Lynn Simpson.
We are nearly there, guys, we are nearly there. A couple of people at The Silver Line, thanks to Holly de la Nougarede and Nina Bhopal, who were amazed that we chose them as they're not one of those popular fundraising charities. They were so chuffed that we chose them. More importantly, I think, and I apologise particularly if I miss any of you, are the people who donated things to the auctions, the blind auctions, the raffles and so on – Paul Bennett, Dan and Matt Buckley, Adie Doyle, Tony Freeman, Nick Gabites, Maggy Harris and Najmie Allette at ITV Studios, Steve Hardy, Alison Heath at Pukeko Pictures, David Power, Rob Schofield, Emma Sherwood, Andrew Skilleter, David Stoner at Silva Screen and Sir Richard Taylor at Weta Workshop – thank you all so much.
So, how much did we raise? How much did we raise? I don't know! I don't know because there are loads of coins to be counted as well, but I can tell you that we have raised this weekend in excess of £8,000. For me it's important to put that in terms of how many people we've helped, and that's 1,600 people who are going to be able to make that vital phone call to The Silver Line, so thank you all so much.
And, last but not least, thank you Ian for that interruption earlier, but it's not all down to me. The club is not all down to me. The club is down to so many people, but particularly the committee. A committee that's stuck together for the last twelve years, through thick and thin, some good times, some bad times when we've felt like chucking it all in, so final thanks to the committee of Fanderson – Stephen Brown, Jackie Dear, Stuart Drummond, Ian Fryer, Mike Jones, Jay Mullins, Mel Rowlands, Lynn Simpson and John Wilkinson. Thank you.
It's time to go home, but before we do, just a reminder of what we were here to celebrate. Thank you all. Goodnight.
(Opening titles played one last time)