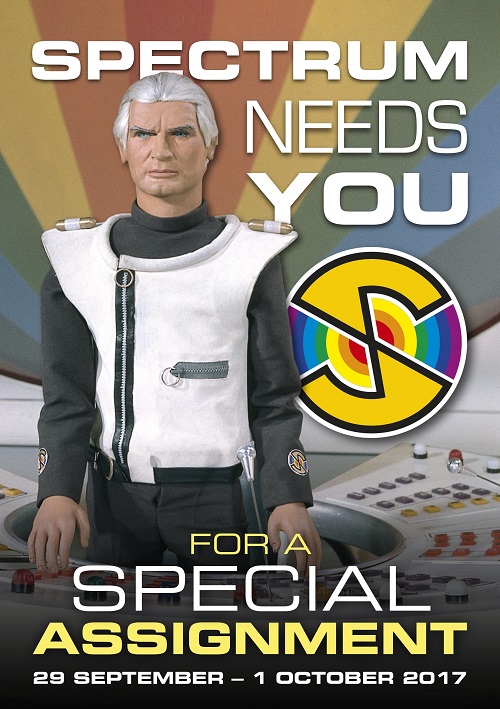 Date: 29th September – 1st October 2017
Venue: Holiday Inn, Manor Lane, Maidenhead, SL6 2RA
The Programme | The Guests | The Charity | The Venue | Member Tickets
Non-Member Tickets | Traders Tickets | Terms and Conditions
Friday 29th September 1967: millions sat in front of their televisions, enthralled by The Mysterons – the first episode of Gerry and Sylvia's Anderson latest creation, Captain Scarlet And The Mysterons.
Fifty years on, and Captain Scarlet fans will be celebrating the 50th anniversary of this ground-breaking series at Special Assignment, Fanderson's convention for 2017. Plus, of course, over the weekend we'll be looking at all the other amazing visions of the future that AP Films and Century 21 teams gave us in their productions, including Stingray, Thunderbirds, UFO, Space:1999 and more.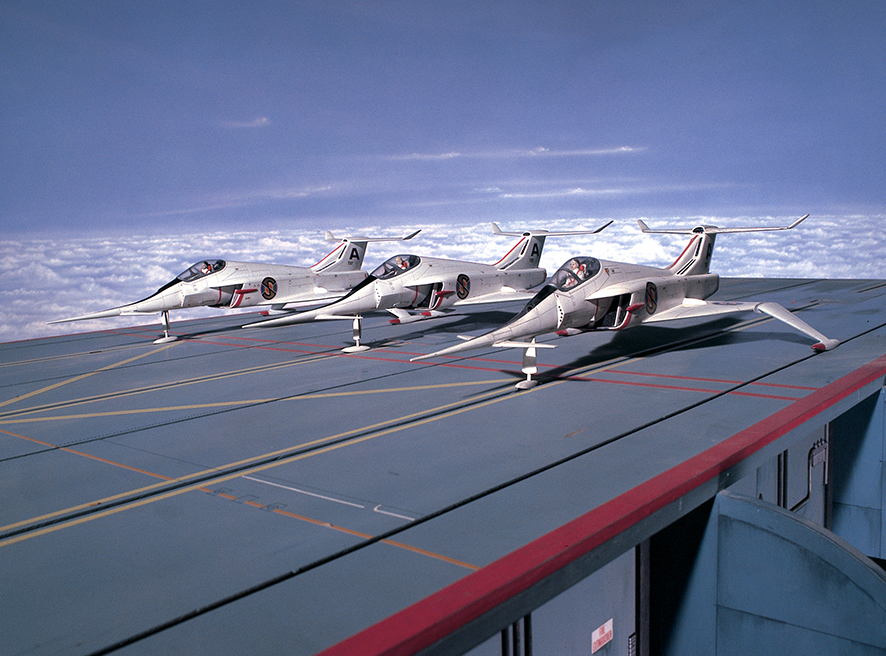 We all love listening to those who worked on the programmes, gawping at fantastic models, puppets, props and artwork, watching the programmes, playing games, dressing up and having in-depth discussions. You can be sure that Special Assignment will have all of this and more, though at this early stage we hope you'll understand that it's still coming together.
Our exhibition of models, puppets, artwork etc is being organised once again by long-time Fanderson member and puppet owner/maker/restorer Chris King, drawing on the generosity of fellow fans and private collectors, so you can be sure it'll be a humdinger!
THE GUESTS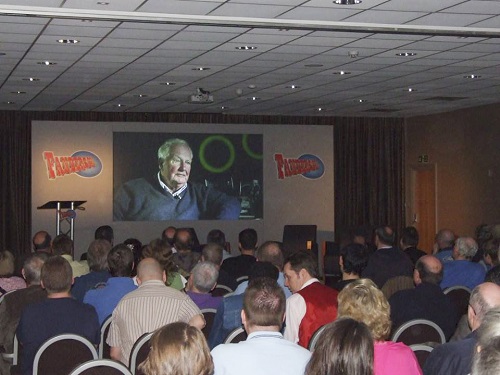 We've got a long list of guests that we've invited to Special Assignment. The following have already confirmed their attendance:
Peter Hitchcock – AP Films SFX assistant, projectionist, lip-sync operator and 'puppet hand' in his first convention appearance
Mary Turner – sculptor and puppeteer
Nicholas Parsons – voice of Tex Tucker, the hero of Four Feather Falls
Shane and Sheila Rimmer – Thunderbirds's Scott Tracy and Captain Scarlet writer
David Graham – the man of a thousand voices, including Parker from Thunderbirds
Mike Trim – influential modelmaker and designer
Mike Noble – TV 21 artist
Richard Culley – Head of Merchandising at Century 21
Liz Morgan – the voices of Destiny and Rhapsody Angels in Captain Scarlet
Alan Perry – Captain Scarlet and UFO director
Penny Spencer – SHADO operative in UFO
Georgina Moon – Skydiver operative Lt. Sylvia Howell in UFO
Martin Bower – model maker and special effects designer on Space:1999
Brian Johnson – special effects guru on famous for his work on Space:1999
John Lee – Terrahawks modelmaker
Judy Preece – Terrahawks puppeteer
Terry Adlam – Dick Spanner creator, writer and director
Phil Ford – New Captain Scarlet head writer
Mark Woollard – New Captain Scarlet director
Dominic Lavery – New Captain Scarlet Concept Art Director
Dee Anderson – singer, writer and daughter of Gerry and Sylvia Anderson
Graham Bleathman – prolific cut-away artist
Keep an eye on our website as we'll announce each new guest just as soon as we receive their confirmation.
Here are a few comments from just a few who immediately agreed to be there with you:
Peter Hitchcock
Peter couldn't make it to The Future Is Fantastic! but says he "Would love to be there in September 2017."
Mike Noble
"Hoping to get along to Maidenhead in 2017 – with any luck!"
Shane and Sheila Rimmer
"Always a treat to meet old friends and new ones too!"
Mary Turner
"I think you are all amazing how you have kept the old series going all this time."
Graham Bleathman
"Always a great atmosphere at Fanderson Conventions. Looking forward to this one"
THE CHARITY
Over the years Fanderson has raised funds for a wide variety of charities, including The Alzheimer's Society, BBC Children In Need, Macmillan Cancer Support, Terrence Higgins Trust, Guide Dogs For The Blind and Diabetes UK.
We're delighted to announce that our charities at Special Assignment will be Breast Cancer Care and the Cinema and Television Benevolent Fund.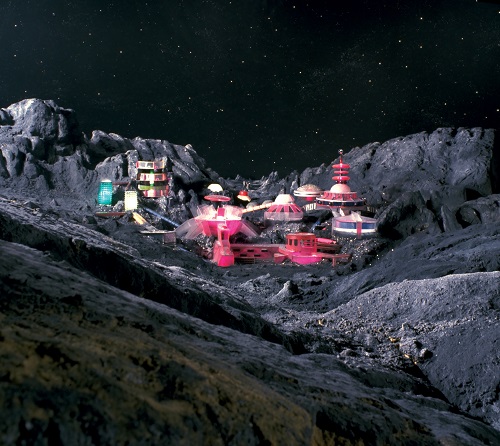 The Holiday Inn, Maidenhead was the venue for Fanderson's The Future Is Fantastic! event in 2015. It's set in a residential area one mile from Maidenhead town centre and has a complimentary car park for residents. The health club includes a large swimming pool, children's pool, whirlpool, sauna, steam room and two gyms. The Junction Restaurant serves seasonal dishes as well as classics like steak and pasta, and there's 24-hour room service. There is also a very large open plan cocktail bar that serves bar snack meals and is great for socialising.
The hotel is in the heart of AP Films/Century 21 studio-land:
3.6 miles/12 minutes to Islet Park
6 miles/12 minutes to Bath Road (AP Films)
6.6 miles/13 minutes to Stirling Road (Century 21)
12.1 miles/23 minutes to Pinewood Studios
The hotel has good transport connections to Heathrow, London, the West, the Midlands and the motorway network:
1 mile (3 minutes) to M4
9 miles (13 minutes) to M40
12 miles (14 minutes) to M25
taxi from London Heathrow: 25 minutes/£35 one-way approximately
taxi from London Gatwick: 1 hour/£60 one-way approximately
train from London Paddington to Maidenhead: 37-47 minutes/from £11.10 one-way
taxi from Maidenhead railway station: four minutes/£4 one-way approximately
Rooms at the Holiday Inn are available to delegates at the special rate of £90 per room/per night (bed and breakfast) based on two people sharing. Just call 01628 506070 in normal office hours (9:00-17:00 Monday to Friday) and quote the reference 'Fanderson'.
Alternative hotels in the area:
TICKETS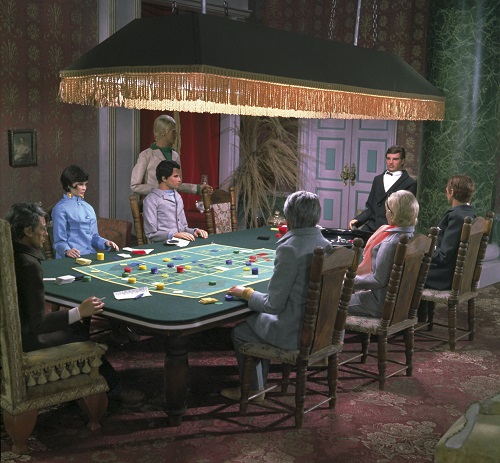 As a fan-organised event, the earlier everyone books for Special Assignment, the earlier we know how extravagant we can be in staging the show.
Tickets start at just £65 per person for one day, or £110 for the whole weekend. We've managed to keep the ticket price the same as The Future Is Fantastic! convention in 2015 because we're a fan club and no one is taking a salary. Note that Saturday-only or Sunday-only tickets do not include the Saturday evening meal or any other refreshments that are included in the weekend ticket. Ticket prices will rise on 1st August 2017.
Book your place(s) online now or, if you'd prefer to pay by UK cheque or postal order, complete the registration form and return it to us with your payment.
Anyone coming to Special Assignment who isn't already a Fanderson member (even if you're coming with a club member) must buy a Trial member ticket which includes a trial Fanderson membership at a special price of £10. The trial membership will start when you arrive at the convention and run until 31st December 2017. This will give you the latest issue of the club's FAB magazine, membership badge, enable you to buy our merchandise at the convention at special prices, access our full range of merchandise online and access to the members' area of the Fanderson Forum.
As a club, we can only sell merchandise to club members, which enables us to keep costs down and direct all our funds into our products and services. No one running Fanderson takes a salary, 'mutual trading' with our members means we're exempt from certain taxes that would inflate our prices, and copyright holders are often willing to forego the expensive merchandise licences that commercial companies have to buy. And, because we're fellow fans like you, we try to take time and care over the little details in our products that commercial operations often can't or don't bother about.
Join us at www.fanderson.org.uk
TERMS AND CONDITIONS (in addition to Fanderson's standard terms and conditions)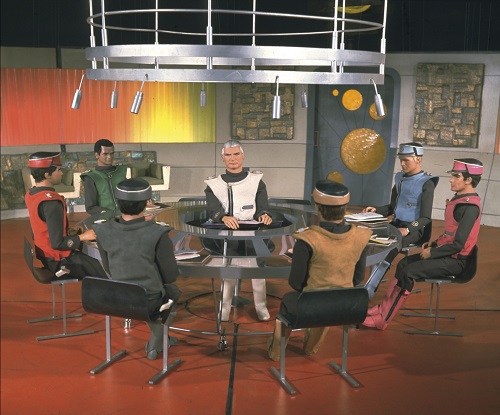 All deposits and subsequent payments are non-refundable.
It is your responsibility to pay the hotel bill for your room and any associated costs upon checkout, or to pay any cancellation costs due to your failure to attend the event.
The convention committee and/or the hotel reserve the right to decline registration for any reason whatsoever and, should your application for registration be declined, any registration fees that you have paid will be refunded in full.
The convention is not suitable for children under 5 years of age.
Any children in your party are your sole responsibility for the duration of the convention, and the organisers will not make any special arrangements for children of any age.
The organisers will make every effort to provide you with the contents of the programme of events as described, but changes to the programme may be implemented at the organisers' discretion due to unforeseen circumstances that may arise nearer the date of the event.