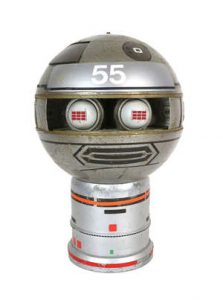 A huge cache of over 200 models, puppets, photos, toys, document, films, pre-production drawings and much more is to go up for auction on 30th November 2020.
The collection was the property of Anderson Burr employee Julian Bell, who died recently, and includes items from Terrahawks, Dick Spanner and Space Police, plus work for abandoned projects including Strike Force and T-Force.
Whilst a collection of this size and variety comes up very rarely, for many the jewel in the collection with be the original studio Captain Ochre head, from Captain Scarlet And The Mysterons.
You can view the full catalogue in advance of the auction on 30th November, where you can also register for live online bidding.