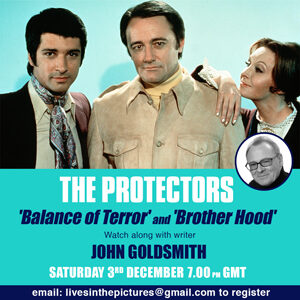 Hot on the heels of their Space:1999 watchalong in September (see FAB Express 102) Lives In The Pictures have announced another event for this coming Saturday.
At 19:00 (GMT) on 3rd December join Lives In The Pictures' Philip Hawkins with his special guest, writer John Goldsmith, for a live watch along of two episodes from The Protectors – Balance Of Terror and Brother Hood. The event will be hosted on Zoom and for the best experience you will need to have your own copy of the episodes to watch along.
John will answer your questions throughout the event, and once registered you can submit your questions in advance. You'll also be able to ask questions during the event via the chat function.
To register, simply email livesinthepictures@gmail.com with your full name.