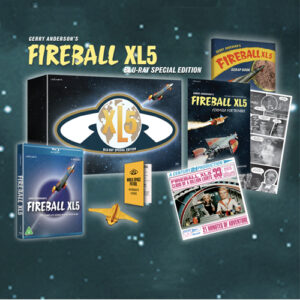 Hot on the heels of their Supercar Blu-ray Disc announcement (and before that's even arrived) Network have confirmed that Fireball XL5 will be their next Anderson production on the high definition disc format.
Gerry and Sylvia Anderson's 1962 Supermarionation series Fireball XL5 has been remastered in high definition from original 35mm film elements for this Blu-ray edition.
The year is 2062, and World Space Patrol ship Fireball XL5 is assigned to Sector 25, where intrepid pilot Steve Zodiac, ably assisted by Doctor Venus and Professor Matthew Matic, faces such dangers as planetomic missiles, explosive gas clouds, space spies, and alien races both warlike and benign!
As well as all 39 episodes, this exclusive limited-edition set includes a brand-new Fireball XL5 comic by Martin Cater, brand-new Fireball XL5 scrapbook, Fireball XL5 WSP astronaut license and badge, Robots In Distress: brand-new Robert the robot animation, Cloud Of A Billion Lights: brand-new Fireball XL5 CD audio adventure, Walton 8mm home movie show, A Wonderland Of Stardust documentary, Drawn In Supermarionation documentary, colourised episode A Day In The Life Of A Space General, Zoom Ice Lolly Adverts and image gallery… all in deluxe packaging!
The set is due for release on 18th October 2021, amd you can pre-order your copy now for just £60!