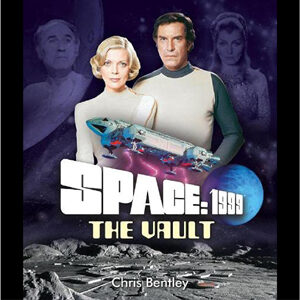 Another must-have book, coming soon from Signum Books, is "the first fully illustrated book dedicated to Space:1999".
Space:1999 The Vault, by Chris Bentley, is a deluxe, full-colour 208-page hardback which includes many rare and newly discovered images from the 48 episodes of what is considered to be Gerry Anderson's greatest TV series.
The lavish science-fiction drama Space:1999 has captivated audiences around the world since its debut in 1975. The series starred Martin Landau and Barbara Bain, and was created by legendary producers Gerry and Sylvia Anderson. The ambitious premise exceeded the scope (and budget) of many of the era's disaster movies – following an accident that blows the Moon out of Earth's orbit, the stranded crew of Moonbase Alpha embark on an epic interplanetary quest for a new home. This definitive and fully authorised book includes a wealth of previously unpublished images – including new shots of original studio models and vintage merchandise.
Author Chris Bentley is a former Fanderson chairman and the author of The Complete Book of Thunderbirds (2000), The Complete Gerry Anderson: The Authorised Episode Guide (2005), The Complete Book of Gerry Anderson's UFO (2016) and Captain Scarlet: The Vault (2017).
Other Signum Books' Anderson titles include Captain Scarlet: The Vault and Shane Rimmer's autobiography From Thunderbirds To Pterodactyls.
Prices vary, but at the time of going to press Amazon are listing the book at £24.59 including free postage, whereas some specialist sellers are charging £29.99 plus postage!