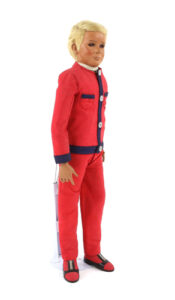 Ewbank's, the Surrey auction house responsible for the auction of items from Terrahawks, Dick Spanner and Space Police in November, held an auction of entertainment, memorabilia and movie props on 27th May, which including some more Anderson items.
Probably of most interest was Lot 248, a reproduction Joe McClaine puppet. Made by Century 21 sculptor John Brown in the early 1970s using the original moulds, the puppet is in full vintage costume on stand with plaque, with head and hands made of cast resin with glass eyes and real hair, approximately 17" high on stand. Hammer price £1,100.
Lot 245 was a set of 11 replica Thunderbirds heads made by Lee Allwood of Brian, Hank and Bruce from The Shadows (Thunderbirds Are Go), Hassan Ali (Desperate Intruder), Nicky (Give Or Take A Million), Rick O Shea and Loman (Ricochet), Hector McGill, Culp the Boatman and Mrs Files (Attack Of The Alligators), Lovegrove (Vault Of Death), each approximately 5×3.5×4". Hammer price £100.
Lot 246 was a scale wooden table from the 1969 series The Secret Service. Hammer price £460.
Lot 247 was a decayed and rebuilt puppet head of Kate Kestrel used in the production of Terrahawks. Hammer price £75.
You can view the complete auction catalogue (nearly 500 items!) using this link.