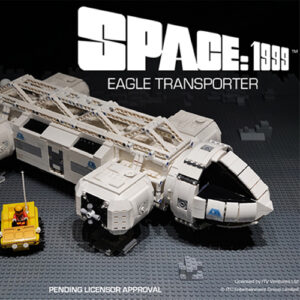 UPDATE: Sixteen12 have confirmed that due to poor pre-orders as of 25th November 2021, this line has been cancelled and will not go into production.
Premium die-cast model makers Sixteen12 have announced the first in their new line of KitBrix construction sets.
This highly detailed brick construction system enables you to create vehicles and playsets from Gerry and Sylvia Anderson's Space:1999: Eagle Transporter:
completed model over 25″ (60cm) long
over 3000 pieces!
full colour step-by-step instruction booklet, guiding you through building one section at a time
Alan Carter and Commander Koenig figures – exclusive to this set
removable passenger pod with full play interior
cockpit interior detail and seating for figures
self-adhesive vinyl decals for enhanced decoration
moonbuggy included
skill level 16 +
Recommended retail price is £199.99, but order within the eight weeks early bird pre-ordering and get 10% off! Shipping is expected March 2022.
KitBrix is compatible with all leading brand construction systems so you can expand and build even bigger creations, add accessories, and recreate scenes from Space:1999. Whether it's launching an Eagle Transporter to intercept an approaching Mark IX Hawk (coming soon) or controlling operations from the heart of Moonbase Alpha's Main Mission, (coming soon) you control the action!