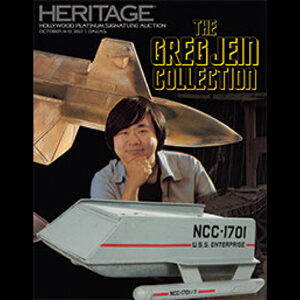 UPDATED 15/10/23: We've updated the listing to include hammer prices (in US$).
---
Heritage Auctions ("The World's Largest Collectibles Auctioneer") will be auctioning over 550 items from the film and television science fiction in The Greg Jein Collection on 13-14th October 2023.
The landmark Greg Jein Auction features the collection of the Oscar- and Emmy-nominated miniature-maker who helped create the mothership from Close Encounters Of The Third Kind and worked on most of the Star Trek movies and TV series since 1977. Jein spent decades putting together this unparalleled assemblage, which includes one of the largest collections of Star Trek props, costumes, models and production photos ever offered to the public, from the original series to nearly every big- and small-screen sequel and spinoff that followed. They're joined by some of the most significant pieces from sci-fi and cinema history, including his mothership maquette. It spans Jein's beloved 1940s and '50s serials, including Spy Smasher and Commando Cody: Sky Marshal Of The Universe, to such 1960s TV shows as Batman and Lost In Space to 2001: A Space Odyssey and Star Wars.
Lots likely to be of interest to Fanderson members: