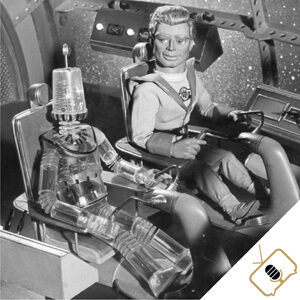 UPDATED 31/10/23: Fireball XL5 returns to Talking Pictures TV from 2nd December at 15:00 with The Triads.
UPDATED 18/7/23: Watch again at Tuesday teatime, from 25th July!
---
Gerry and Sylvia Anderson's 1962 series Fireball XL5 is to be broadcast in the UK on Talking Pictures TV!
This will be the series' first UK broadcast since 1987, when it had enjoyed a piecemeal run over two years on what was then the wonderful network of local ITV stations. Talking Pictures TV will start their run with Planet 46 on Saturday 3rd June at 14:35. See their schedule for that week here.
Talking Pictures TV is available in the UK on Freeview/Youview 82, Freesat 306, Sky channel 328 and Virgin 445, with a streaming service at www.tptvencore.co.uk