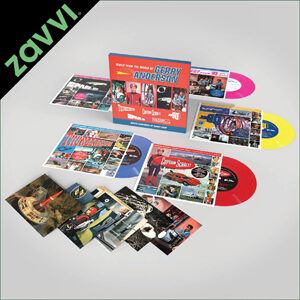 Silva Screen Records and Zavvi have announced a newly remastered limited edition Anderson 7" singles box set,  featuring music from the extensive Barry Gray soundtrack catalogue. Gray's partnership with Gerry and Sylvia Anderson was one of the most successful of its kind in TV history, forever linking the iconic Supermarionation imagery with the composer's distinctive orchestral themes.
Due for release on 31st August, this exclusive box set contains the soundtracks to some of the Andersons' most popular Supermarionation shows, including Thunderbirds and Captain Scarlet And The Mysterons, and also includes the soundtrack to live action series Space:1999. This limited edition 7" singles box set is the perfect addition to your vinyl collection.
One lucky club member will win one of the new boxsets – see the first issue of FAB-lite (working title) soon!
Previously a staggered release by Silva Screen from 2012 in time for 2013's Record Store Day, the new boxset includes The Cass Carnaby disc on shocking pink vinyl (the 2013 was a clear flexidisc), five exclusive art cards and is limited to just 500 units worldwide.
Track Listing:
Thunderbirds 7" on blue vinyl
Side 1
Thunderbirds – Main Theme (1:36)
Dangerous Game (1:40) (Vocals: Jack Clegg)
Side 2
Thunderbirds Are Go! (4:28)
Captain Scarlet 7" on red vinyl
Side 1
Captain Scarlet – Main Theme (1:33)
The S.H.E.F. March (2:35)
Side 2
White As Snow (3:12)
Captain Scarlet – End Titles (1:28) – Performed by The Spectrum
Joe 90 7" on yellow vinyl
Side 1
Century 21 Sting (0:08)
Joe 90 – Main Theme (1:58)
The Most Special Agent (3:19)
Side 2
Splashdown (4:44)
Joe 90 – End Titles (1:20)
Space:1999 7" on white vinyl
Side 1
Space: 1999 Year One – Main Titles (1:10)
Breakaway Suite (4:39)
Side 2
Black Sun Suite And End Titles (5:52)
The Cass Carnaby Five 7" on pink vinyl
Side 1
This Is The Twist (1:40)
Formula 5 (1:23)
Let's Play Ad Lib (2:56)
Side 2
Spoke City Jazz (1:39)
Until Midnight (2:22)
Double Agent Entertainment (2:02)