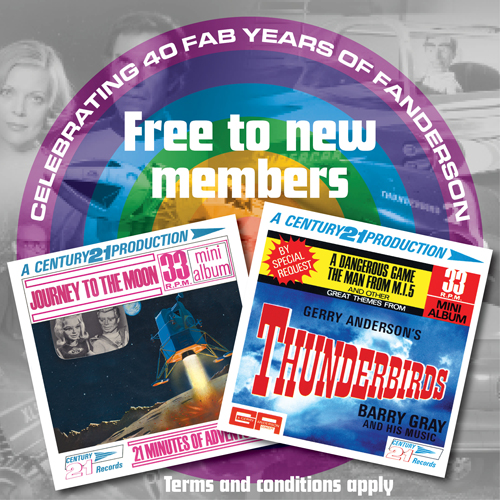 As a celebratory free gift to new members in August – our 40th anniversary month – we'll include a copy of either Journey To The Moon or Great Themes From Thunderbirds mini album on CD (as stocks last) in their membership package.
Join Fanderson now to get this great free offer! And don't forget we've got some great anniversary merchandise offers right now too!
On 20th August 1981, Fanderson was formed at Pinewood Studios under the provisional name of 'Anderclan'. Gerry Anderson and ITC had called a meeting with representatives from the various clubs, publications and the Fanderson 81 convention in the hope that they could all come together as a unified club. Our status as Sylvia Anderson's official fan club was bestowed posthumously by her family in 2016. You can read more here.
Terms and conditions (in addition to our standard Ts&Cs):
Either of the mini albums will be inserted to new membership packages throughout August 2021, at random, and as stocks last.
This offer is only applicable to new Fanderson members (including former members that are no longer on our database, due to our GDPR privacy notice, who are rejoining the club). The discs were previously given as part of the 2008 and 2013 Fanderson membership packages respectively.
As an extra free gift these do not form a contractual part of the membership package, and Fanderson is under no obligation to provide an alternative gift once stock of these mini albums is exhausted.
Please don't ask if you can buy either of these mini album replicas from us. Due to our licensing agreement, we cannot sell them. We can only give them away.