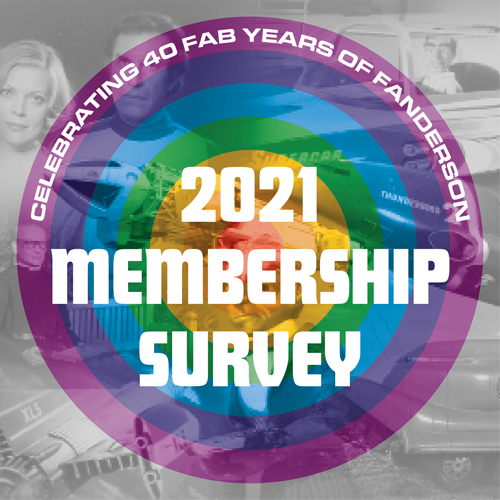 Fanderson is 40 years old this year, and we're rightly celebrating our many achievements over those four decades.
But as well as looking back over the great things we've done, we're looking forward to the future for the club, and we'd like your input. It's seven years since we last surveyed the entire membership so it's certainly the right time to do it again.
Click here to complete the survey and give us your views. The survey will only take a few minutes to complete, and club members' collective views will really help us ensure we're making the right decisions for the future.
If you'd rather not complete the survey online, click here for a copy that you can print, complete and then mail to us at Fanderson, 99 Caton Crescent, Milton, Stoke On Trent, Staffordshire, ST6 8XH (United Kingdom).
The 2021 membership survey closes at midnight on 31st August 2021. All valid entries* received by that time will go into a draw to win one of these fantastic prizes:
Japanese Thunderbirds Visual Archives book – hard to get outside of Japan
UFO Screenplays book – a long out-of-print Fanderson book from 2001
Earthfall – our 2002 reprint of EC Tubb's 1977 Space:1999 novel
Century 21 Diary – our membership gift from 2008
*valid entries are from current club members, and whose personal details provided in the survey match those in our membership database