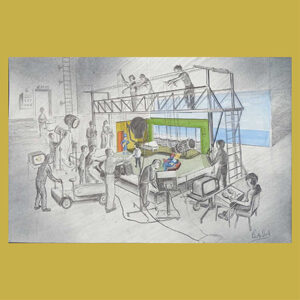 On 12th February 2022, specialist collectables and memorabilia auctioneers Excalibur will be offering the second part of late author Simon Archer's collection, including six drawings by series art director Bob Bell.
Bob worked on many of the Anderson TV productions and was art director and supervising art director on Thunderbirds Season 1 and 2 respectively, as well as on the Thunderbirds films.
The series of six pencil and watercolour sketches (lots 547 to 552) represents the evolution of the Supermarionation technique and featured in Gerry Anderson's lecture tour in the 90s. Estimate is £200 to £400 for each lot.
The auction includes much, much more, and the full catalogue can be seen
here
.