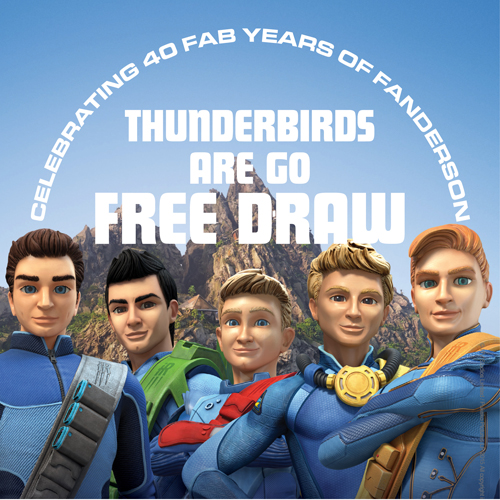 Congratulations to everyone who entered our free draw to win a money-can't-buy Thunderbirds Are Go promotional goodie.
In the next few days we'll pop a prize in the post to every club member who entered (even the person who got an answer wrong), as there were enough to go round.
So, well done to Steve Bushell (UK), Stephen Carson (UK), Andrew Clements (UK), Florian Franken (Netherlands), Pat Gardner (UK), Ian Haworth (Australia), Stephen McAvoy (UK), James McFetridge (UK), James Potter (UK) and Eleftherios Sarris (Greece).
The questions (with answers):
5: How many episodes of Thunderbirds Are Go were made?
78
4: Who provided Jeff Tracy's voice in Thunderbirds Are Go?
Lee Majors (plus Peter Dyneley in the opening titles)
3: Which episode of Thunderbirds Are Go was omitted from the series' premiere UK broadcast (but was screened at Fanderson's Supercelebration convention in 2019)?
Inferno
2: Thunderbirds Are Go was an international effort, with people in many countries involved. Name two of those countries.
China, New Zealand, Taiwan or the United Kingdom.
1: Many episodes of Thunderbirds Are Go include elements from Gerry and Sylvia Anderson's productions, but name one that has the same episode title.
Ghost Ship, The (Stingray)
Path Of Destruction (Thunderbirds)
Inferno (Captain Scarlet And The Mysterons)
Runaway (Terrahawks).
As we had a few prizes unclaimed we would have even accepted Ring Of Fire (60s Thunderbirds novel) or SOS (Kate Kestrel single)!