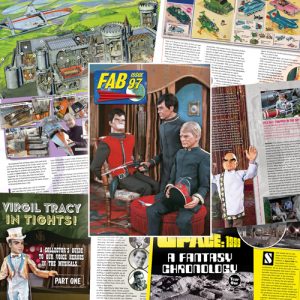 We've popped FAB 97 in the post to over 1,300 Fanderson members around the world.
We're sorry that it's taken longer than usual to get it ready, but included in this issue:
David Sisson's report on the recent auction of models, puppets and more from Terrahawks, Space Police, Dick Spanner and several unfilmed projects
Ian Fryer explains his Space:1999 Year One fantasy chronology
club members give their views on Captain Scarlet And The Mysterons The Trap in our regular Timelash column, with exclusive Glen Garry Castle cutaway by Graham Bleathman
Chris Drake looks back at The Protectors Chase
Alistair McGown recalls how he first became aware of Gerry and Sylvia Anderson's productions – through Dinky Toys!
Virgil Tracy In Tights is the first part of Lorraine Malby's in-depth look at the stage musical recordings of our favourite puppet voice artistes
Jonathan Baxter takes a critical look at The Hood's exploits to decide whether he's a criminal mastermind or comic villain
the third part of our exclusive Thunderbirds Are Go photo-strip by Jonathan Baxter
plus FAB news, FAB Mail and more
This issue is so packed that there's no room for the next part of Ian Fryer's look at UFO in Countdown and TV Action comics, so it'll be back next issue!
With FAB 97 we've mailed a little something to kick off our 40th anniversary celebrations. We hope you like it!
As we're currently running a whole issue of FAB behind schedule, FAB 97 sees the final mailing of our 2020 membership gift – the fantastic Century 21 Complete Puppet Catalogue, which has been mailed to our last batch of renewing members. We will, of course, continue mailing this book to new members until our new 2021/22 membership gift is available (with FAB 98). We're all working really hard to get FAB back on track, so that we should reach our 100th issue by the end of this, our 40th anniversary year.
If you're ever worried something we've sent might have gone missing in the post, please check our Shipping And Returns page before contacting us.
How to get FAB magazine? Join Fanderson!
FAB magazine is available exclusively to Fanderson club members – we publish three times a year, and we do our very best to make each issue a joy to read for every fan – regardless of your favourite series!