On Thursday, 20th August 1981, Gerry Anderson invited fans of his work to meet him at his office at Pinewood Studios, and together they formed Fanderson.
On Saturday, 20th August 2022, Fanderson members celebrated Gerry and Sylvia's work, and the club itself at the 40th birthday bash (albeit one year late, due to Covid-19!).
Deliberately designed to be a social event rather than a convention, club members enjoyed music, models, puppets and lots of chat as it had been three years since they'd been able to get together (at our Supercelebration convention back in 2019). We were delighted that puppeteers Mary Turner and Judy Preece were available to celebrate with us too. It was a perfect day, weather-wise, and so we were able to enjoy the garden of the Pinewood Hotel much of the time, especially for the barbecue and cake (lots of cake!).
The event package included a birthday card, poster, badge and the first issue of our new club magazine, FAB Express.
Club secretary John Wilkinson also set a couple of quizzes for anyone with time on their hands:
a headlines quiz asked members to state the year for 40 Daily Mirror headlines
the particularly fiendish episode synopses quiz asked members to identify Anderson episodes from their TV Times listings
You can have a go now (just for fun) and the answers are below the photos.
Well done to our winners Lily Ride (31 out of 40 headlines correct) and Mark Castell (32 out of 40 episodes correct) who each win a lifetime Fanderson membership and Zavvi's reissued Topps trading cards or vinyl EP boxset (respectively).
Well done to all who took part in the quizzes, and a big thank you to everyone who was able to attend and/or contribute to our 40 FAB Years!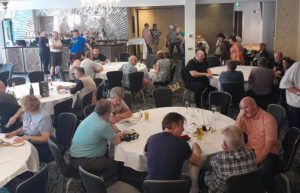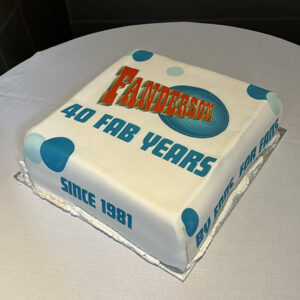 Headlines quiz answers:
1987
2010
2006
1992
2011
2008
1988
1995
1998
2001
1984
2003
2007
1999
1982
1985
1994
1983
2020
1996
2009
2004
1989
1990
2017
2018
2002
1981
1991
2012
2016
2000
2005
2013
2014
2019
2015
1993
1986
1997
Episode synopses quiz answers:
Captain Scarlet And The Mysterons Flight 104
Thunderbirds Pit Of Peril
Space:1999 The Full Circle
UFO The Dalotek Affair
Joe 90 Business Holiday
Thunderbirds 30 Minutes After Noon
Stingray The Master Plan
The Protectors Petard
Thunderbirds The Man From MI.5
Joe 90 Hi-Jacked
The Protectors Goodbye George
Captain Scarlet And The Mysterons Fire At Rig 15
Fireball XL5 Robert To The Rescue
The Secret Service More Haste – Less Speed
Supercar Keep It Cool
Captain Scarlet And The Mysterons Codename Europa
UFO Timelash
Space:1999 A Matter Of Balance
The Protectors Burning Bush
Thunderbirds Martian Invasion
Stingray The Big Gun
Joe 90 The Fortress
Space:1999 Earthbound
UFO Destruction
The Secret Service Recall To Service
Stingray Sea Of Oil
Thunderbirds End Of The Road
Fireball XL5 Convict In Space
UFO Flight Path
Space:1999 Missing Link
Thunderbirds The Cham-Cham
Space:1999 Dragon's Domain
UFO Survival
The Protectors A Case For The Right
Thunderbirds Path Of Destruction
Captain Scarlet And The Mysterons The Trap
Space:1999 The Immunity Syndrome
Joe 90 Relative Danger
UFO The Long Sleep
Thunderbirds Martian Invasion