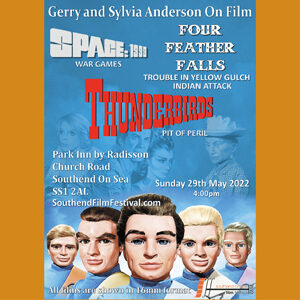 Fanderson is the proud sponsor of the Anderson On Film presentation as part of the Southend Film Festival, enabling fans to enjoy Gerry and Sylvia Anderson's work with other fans this summer… on film!
In this digital world it's easy to watch programmes on your phone, to stream, or even to watch from DVD or Blu-ray Disc. This year's Southend Film Festival gives Anderson fans a chance to have that collective experience of watching with fellow fans, thanks to the beauty that is celluloid film!
This year's programme of Anderson programmes on 29th May 2022 – all on the big screen and all shown from film – includes:
Four Feather Falls Trouble In Yellow Gulch and Indian Attack
Space:1999 War Games
Thunderbirds Pit Of Peril
The popular Southend Film Festival has been running for thirteen years in two parts – as well as the main festival, the Film Festival Fringe encourages various venues around Southend to put on film screenings throughout May. Over 50 films were screened during last year's festival. The festival's patrons are actors Ray Winstone, Vicki Michelle and Phil Davis, and you can see more at www.southendfilmfestival.com
When the club announced that Supercelebration would be our last full-weekend convention we offered to help smaller events around the country to ensure fans of Gerry and Sylvia's work could continue to get together. That help might be financial (such as seed funding to secure a venue, or advertising, or sponsorship) or it might be more practical (such as liaising with guests, or logistical help).
If you need help or support with your Anderson event, please drop us a line at fanderson.org.uk@outlook.com.