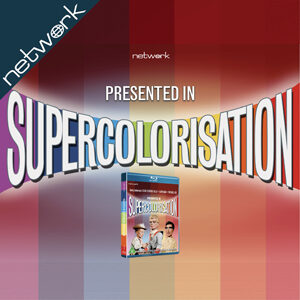 Network has announced a new two-disc Blu-ray Disc set of colourised Gerry and Sylvia Anderson productions, coming on 12th December 2022.
The first disc of the Presented In Supercolorisation set includes Four Feather Falls First Train Through, Supercar Pirate Plunder and Supercar "Take One", Fireball XL5 The Sun Temple, The Granatoid Tanks and A Day In The Life Of A Space General in colourised high-definition!
Most of these episodes are available again on disc two, along with other programmes, as part of two compilation features previously seen on watch.networkonair.com:
You've Never Seen These! – Professor Matthew Matic and Dr Horatio Beaker co-host 2021's online compilation showcasing the colourisations of Pirate Plunder and The Granatoid Tanks, alongside restorations of Stingray Treasure Down Below and an edition of Anderson super-rarity You've Never Seen This.
Space City Specials – featuring another edition of You've Never Seen This, 2022's special online compilation also showcases colourisations of First Train Through and The Sun Temple, all linked together by Robert the Robot!
The set is completed by a 16-page booklet featuring frames from the colourised episodes next to outline versions to colour.
Priced at £35, the set is available to pre-order now.