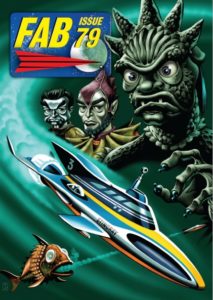 Here at Fanderson we are over the moon to announce that artist Steve Kyte will join our long list of special guests at Supercelebration in September.
Steve is well known for his work on the Channel 5 Video sleeves and the Supermarionation Fleetway comic revival in the 1990s – particularly his strip adaptations of TV episodes. He also makes regular contributions to our very own FAB magazine.
Join us for a Supercelebration
The convention takes place from 20th to 22nd September at the 2019 Holiday Inn, Maidenhead.
Tickets for club members to Supercelebration start from just £75 per person for one day, or £130 for the whole weekend. In this challenging financial climate, we've managed to keep the ticket price the same as our Special Assignment convention in 2017. That's because we're a fan club and no one is taking a salary.