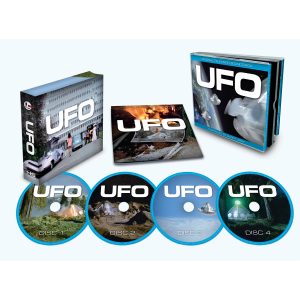 Fanderson is delighted to announce that its latest soundtrack is now available to pre-order.
The new 4-disc set of music from UFO is the most extensive from this series that the club has produced.
To celebrate, our March offer of the month is 25% off the Ed Bishop: Identified audio archive disc, if you buy in the same transaction as the UFO soundtrack and use coupon code UFO50 at checkout. You can only use the coupon once, the offer is only valid whilst stocks last (we therefore reserve the right to end the offer before 31st March) and no substitutions/alternatives are available.
We're expecting deliveries of UFO by 1st April, and your Ed Bishop disc with be mailed together with the soundtrack.
As with all Fanderson merchandise, the UFO soundtrack has been produced by fans, for fans. It's a strictly limited edition.
If you're not already a club member, join up now to buy and enjoy some of Barry Gray's finest.