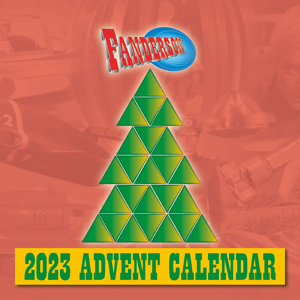 Christmas is a time for giving so, once again, from this Friday 1st December until Christmas Eve we'll have something special every day for club members in our online advent calendar, and by being part of it you'll be helping people in need.
We've checked our storage units, cupboards (even down the back of the sofa!) and, thanks also to our generous partners and friends, we've got some great goodies for Fanderson members. We'll be raising vital funds for our 2024 charity, Actors' Benevolent Fund.
Alison Wyman, Chief Executive Officer of the Actors' Benevolent Fund, writes:
"I wanted to write on behalf of the Actors' Benevolent Fund to thank you very much for choosing the ABF as Fanderson's charity of the year 2024! 
"The Actors' Benevolent Fund (ABF) has a long history of supporting actors and stage managers in times of need, for the past 140 years. We are living in incredibly challenging and uncertain times, with a rising cost of living and a decrease in funding for the Arts, resulting in fewer opportunities for actors and stage managers. This has created significant financial pressures as well as challenges with mental health and wellbeing. Our help is needed more than ever, and we are working to create new and relevant ways to provide support which reflects the needs of the acting and stage management community today, so the ABF is making the greatest possible difference.
"So far in 2023 we have seen a significant increase in the number of people we have helped compared to in 2022, and our plan is to reach even more people and expand our range of support. We have already started this through providing Cost of Living grants and launching a podcast focused on wellbeing.
"The need is great and we are determined to support this community which provides so much meaning and inspiration to others. We are grateful for any support members can provide to enable us to achieve this."
We'll also pop a little freebie in with every Fanderson merchandise* order placed in December – these four picture cards, produced in 2014/15 to publicise our The Future Is Fantastic! convention. They're the perfect companion to our The Future Is Fantastic! picture card set, or if you collect the original 1960s/70s Barrett's/Bassett's cards from Thunderbirds, Captain Scarlet And The Mysterons, UFO and Space:1999)!
Come back on Friday, 1st December to open the first window!
---
*Whilst stocks last. Excludes club memberships, Silva Screen products, event registrations, charity auction bids or charity raffle tickets.
Advent Calendar terms and conditions apply, in addition to Fanderson's standing Terms and Conditions.
Please note our last order days for Christmas, and see the various additional postage options available with merchandise orders.
---